Ltd Edition 'Noah' Art Posters By Rob Liefeld And Others, Available At Select IMAX, Arclight And XD Screenings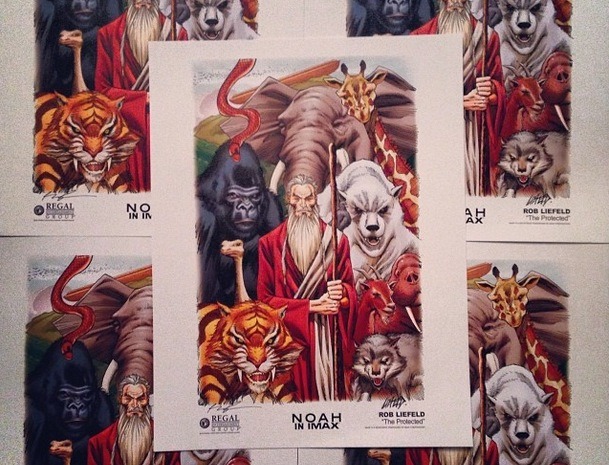 You may have heard, filmmaker Darren Aronofsky curated an art show inspired by the story of Noah, featuring original works by over 50 modern artists. Turns out, four of these pieces will be turned into limited edition poster prints which will given out while supplies last at various large screen format screenings of Noah on opening weekend. See all four of the Noah art posters after the jump, and find out where you might be able to find them.
The four posters were created by:
Legendary comic book creator/artist Rob Liefeld
Mexican artist Carmen Arvizu
New York fine artist Alexis Rockman
and San Francisco modern artist Matt Furie
Noah Art Posters
Lets take a look at the Noah art posters and find out where they will be available:
Rob Liefeld's "The Protected" Noah art poster will be given out at Regal Cinema IMAX screenings.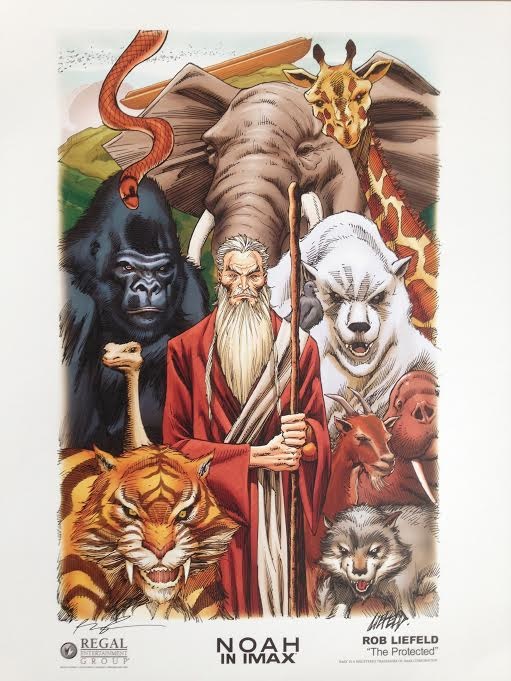 Alexis Rockman's "Ark" Noah art poster will be available at Arclight theaters starting with Thursday night sneak previews.Matt Furie's Animal Planet print will be available at select Cinemark XD screenings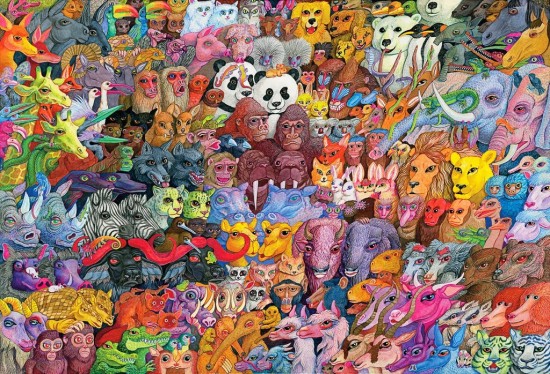 Carmen Arviz, "Dos Elefantes" Noah art print is at the AMC chain IMAX theaters.
I've been told that they only made about 45,000 of each of these (the exception being the Alexis Rockman's "Ark" poster which was printed in a more limited run of 15,000 as the Arclight is a regional chain in California). We don't know exactly how many prints will be on hand at each theater, so get there early if you hope to grab one (while supplies last).
Official information about the movie:
Synopsis:  Russell Crowe stars as Noah in the film inspired by the epic story of courage, sacrifice and hope. Directed by visionary filmmaker Darren Aronofsky.
Cast: Russell Crowe, Jennifer Connelly, Ray Winstone, Emma Watson, Anthony Hopkins, Logan Lerman, Douglas Booth
Noah hits theaters on March 28th, 2014.
The header image is from Rob Liefeld's instagram page.