Kevin Smith Could Become AMC's Late Night Host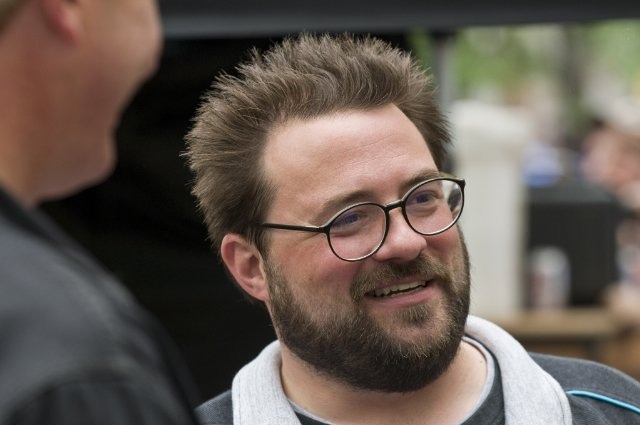 Kevin Smith, a late night host? AMC has asked the Clerks director to film a pilot of his Hollywood Babble-On podcast with Ralph Garman to potentially become a weekly late night talk show program. The company has also renewed Smith's Comic Book Men for a fourth season and is developing a new show around one of that show's frequent guests, collector Robert Bruce. Read more about the "Kevin Smith late night host" concept below.
The Hollywood Reporter broke the news of Smith's growing relationship with AMC. He said the following of his podcast, which generally tapes in front of a live audience:
I always describe [Hollywood Babble-On] as Entertainment Tonight but filthy. We sit there and make fun of our industry betters. We bring an inside perspective. We're not the biggest winners on the planet, so we can grouse as well. It has a fun dynamic of salty and sweet. It's a night club show, so we're working with the good folks to try and crack the code of how to turn that podcast we record live every week and turn it into a TV show.
AMC audiences are already comfortable with Smith and his cohorts as Comic Book Men averages about a million viewers a week, even though it airs at midnight on Sunday. Turning him into a late night host seems like a natural transition to compete with Comedy Central's show @Midnight, which is building a big audience.
The other show in development would be in the vein of Toy Hunter or American Pickers and follow Robert Bruce around the country to various flea markets and stores looking for geeky collectables.
AMC executive Joel Stillerman said the following about expanding the relationship with Smith:
We started talking about expanding things with Kevin well over a year ago, becoming familiar with and watching the success of Hollywood Babble-On over the past couple of years, it seems like a no-brainer. They do it in a way that has a general reverence for entertainment, and I think it's a very unique perspective.
A Kevin Smith AMC late night show would almost certainly be a big hit, and if they can figure out a unique take on the late night talk format, all the better. What do you think?