Agent Coulson's Cellist Girlfriend Joining 'Agents Of S.H.I.E.L.D.'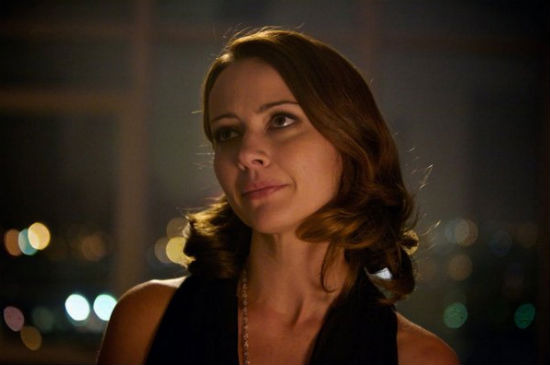 Mystery always surrounds Agent Coulson in the Marvel Cinematic Universe, but one of the character's unseen aspects is about to be revealed. During Phase One of the MCU, Coulson (played by Clark Gregg) regularly discussed a love interest in conversations with Pepper Potts and Tony Stark. They all referred to her as "The Cellist." Now, Whedonverse alum Amy Acker has been cast as that character; she'll appear in an upcoming episode of Marvel's Agents of S.H.I.E.L.D.
TV Guide broke the news of Acker's casting. She's previously appeared in other Joss Whedon projects Angel, Dollhouse, The Cabin in the Woods and Much Ado About Nothing. Whedon executive produces Agents of S.H.I.E.L.D. and his brother and sister-in-law run the show.
The cellist's name is Audrey and, according to the story, she'll appear in at least the April 22nd episode of the show. Like everyone else, Audrey believed Coulson to be dead after the events of The Avengers. Her mourning was even mentioned in a previous episode of the show. Since his return though, Coulson has been keeping a secret eye on her and will have to blow his cover and reveal himself to be alive once "a super-powered threat from her past re-emerges."
Why does a cellist in Portland have a "super-powered threat" in her past? I guess fans will find out in a few weeks when the episode airs.
I expect the coming weeks will be pretty telling on Marvel's Agents of S.H.I.E.L.D. In addition to Deathlok and now the introduction of Audrey the cellist, the events of Captain America: The Winter Soldier will be explored, plus Gregg recently teased he could appear in Avengers: Age of Ultron. I don't expect that last one to happen (just too much to process for all the superheroes) but it does raise the question of the ultimate end game of not only Coulson's character, but the show in general. Things are about to get very, very interesting.
Are you excited the cellist will finally be revealed?