Attend One Of 15 Free 'Draft Day' Screenings Courtesy Of /Film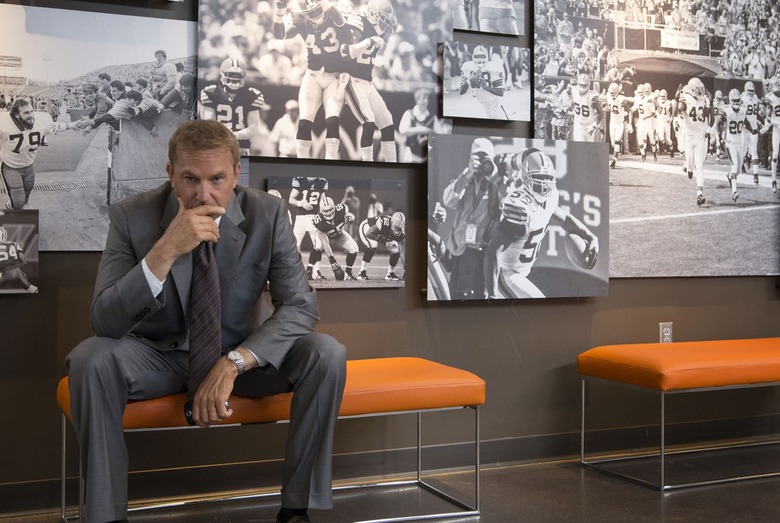 We've got tickets to not one, not two, but 15 Draft Day screenings next week. And, unlike an NFL game, each one is absolutely free.
Fifteen cities who have NFL teams have been chosen by Summit for special advanced screenings of the sports drama, which stars Kevin Costner, Jennifer Garner and Denis Leary. Directed by Ivan Reitman from the Black List script by Rajiv Joseph and Scott Rothman, Draft Day tells the story of the Cleveland Browns general manage (Costner) who must decide his team's fate based on the pick in the NFL Draft. The whole city is hanging on his decision and, over the course of one day, he'll take that city on a real roller-coaster ride of emotion.
The first film ever officially endorsed by the NFL, Draft Day is goose bump inducing, high-energy entertainment. Sure, a love of sports – especially the NFL and the NFL draft – only helps, but even non-fans should enjoy this crazy crowd-pleaser. It's a ton of fun.
Below, find out which cities have free Draft Day screenings next week and how to attend, courtesy of your pals at /Film.
Here is the full list of cities and dates hosting Draft Day screenings. For tickets, and further information, visit gofobo.com/DraftDaySlashFilm.
NEW YORK - Wednesday, April 2
CHICAGO - Tuesday, April 1
SAN FRANCISCO - Monday, March 31
PHILADELPHIA - Wednesday, April 2
BOSTON - Tuesday, April 1
DALLAS - Tuesday, April 1
HOUSTON - Wednesday, April 2
WASHINGTON DC - Monday, March 31
MIAMI - Wednesday, April 2
MINNEAPOLIS - Tuesday, April 1
ATLANTA - Tuesday, April 1
DENVER - Tuesday, April 1
PHOENIX - Monday, March 31
SEATTLE - Thursday, April 3
CLEVELAND - Thursday, April 3
/Film has about 100 tickets for each of those markets and, as each city fills up, the city at gofobo.com/DraftDaySlashFilm will update with an "X." If that happens, our tickets in that city are gone.
Draft Day also stars Frank Langella, Sam Elliot, Sean Combs, Terry Crews, Ellen Burstyn and Chadwick Boseman. It opens everywhere April 11. Here's the trailer.
On the day of the NFL Draft, general manager Sonny Weaver (Costner) has the opportunity to save football in Cleveland when he trades for the number one pick. He must quickly decide what he's willing to sacrifice in pursuit of perfection as the lines between his personal and professional life become blurred on a life-changing day for a few hundred young men with dreams of playing in the NFL.