Sequel Bits: 'Terminator 5', 'Blair Witch 3', 'Transformers 4', 'Mad Max: Fury Road'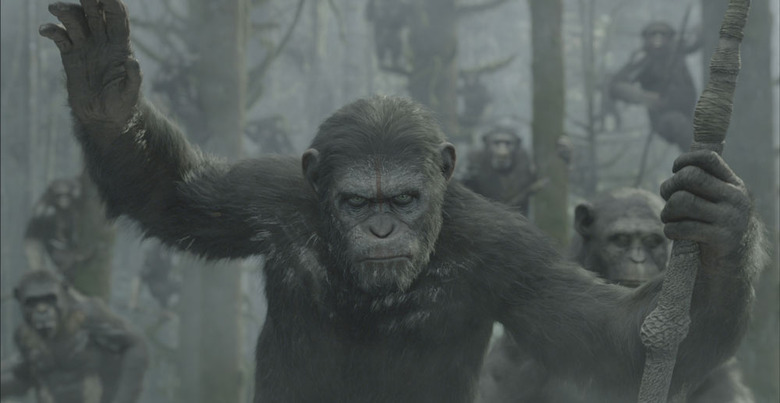 After the jump, get the latest updates on all the sequels you're looking forward to, along with some you're probably not.
Divergent is officially getting a sequel, Insurgent
Find out when Terminator: Genesis starts shooting
Best Exotic Marigold Hotel 2 is opening next spring
Veronica Mars director addresses sequel speculation
Blair Witch co-director talks about a potential sequel
Listen to an energetic tune from the Raid 2 soundtrack
Sophia Myles shows up in a new Transformers 4 still
Linkin Park is contributing to Transformers 4
See a new BTS image from Dawn of the Planet of the Apes
Here's a new pic of Tom Hardy in Mad Max: Fury Road
The narrative timeline for Terminator: Genesis seems a bit confusing, but the production timeline is much more straightforward. The long-awaited sci-fi sequel will start shooting "around April 24" in New Orleans for release on July 1, 2015. [@colliderfrosty]
The Best Exotic Marigold Hotel isn't really the kind of movie we typically think of as a franchise-starter, but the first film was such a big surprise hit that The Best Exotic Marigold Hotel 2 was put into motion. Now Fox Searchlight has dated the sequel, its first ever, for a March 6, 2015 platform release. The plot will see Dev Patel and Maggie Smith's characters co-managing the hotel. [Variety]
After seven long years, the Veronica Mars movie sequel was finally released last weekend. Now fans are eager to know whether the movie sequel might itself get a sequel — and director Rob Thomas is happy to say that things are looking "encouraging." He wrote in a letter to Kickstarter backers:
I know that everyone involved would love to keep on going. I hope that we will. But there's no news on that yet, and it might be a while before we know. I'm so happy to get the seven-year "Will there be a Veronica Mars movie?" monkey off my back, that I could use a little time to savor this moment before launching the "Will there be another Veronica Mars movie?" crusade. Know this: I'd love for it to happen, and early signs are encouraging.
For what it's worth, Warner Bros. seems pretty pleased with the results so far. "Our result starting with our Thursday fan events was $260K," said Jeff Goldstein, the studio's executive vice president of theatrical distribution, last week. "You add that together with our weekend for a total of $2 million from 291 theaters? That's pretty significant." [EW]
A third Blair Witch Project movie has yet to materialize, despite lots of talk over the years. But with Eduardo Sánchez back at Lionsgate (which distributed the original Blair Witch on home video) for his latest movie Exists, he says a sequel could still happen.
You know, Lionsgate owns the property, so it's obviously up to them right now. We've been talking to them for the past four or five years about doing it, but there's nothing really in the works right now with us. But I think you're right and maybe just being back at Lionsgate will help move things forward on another Blair Witch movie.
And if it does happen, don't expect it to look too much like the original. "We never imagined doing another Blair Witch found-footage movie," he said. "Our plan for the sequel is definitely not doing a found-footage movie." [Movies.com]
There are only a few days left to go until the premiere of The Raid 2, and you can prepare yourself for the excitement now with a new tune from the soundtrack. Here's "Motor Chase," by composer Joseph Trapanese.
The digital version of The Raid 2 soundtrack hits March 25. The CD version arrives April 29. The deluxe vinyl LP edition lands May 27. The movie itself opens March 28. [The Playlist]
Although Sophia Myles was added to the cast of Transformers: Age of Extinction way back last summr, we haven't seen much of her character in the promotional materials. But now we have our first look at her thanks to Salient Arms International. The firearms company has posted a new still from the film that features Myles alongside one of their guns, the Salient Arms International 1911.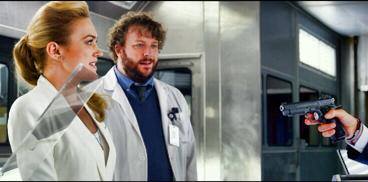 She looks pretty happy for someone who has a gun pointed at her, but presumably this whole scene makes more sense in context. [Facebook via TFW2005]
Linkin Park will likely be back to contribute more of their music for Transformers: Age of Extinction. "We've been very fortunate working with the Transformers franchise. It's been great for us," said lead singer Chester Bennington. "Transformers [4] is coming out this summer and it makes total sense for us to be a part of that as well. So, [we are] looking forward to [see] how that's going to unfold."Transformers: Age of Extinction opens June 27. [Sixx Sense via TFW2005]
The latest image from Dawn of the Planet of the Apes doesn't have any apes in it, but it does include a few humans who are pretending to be apes. Specifically, Toby Kebbell's "alpha ape" Koba and a couple of others wielding guns and trucker hats.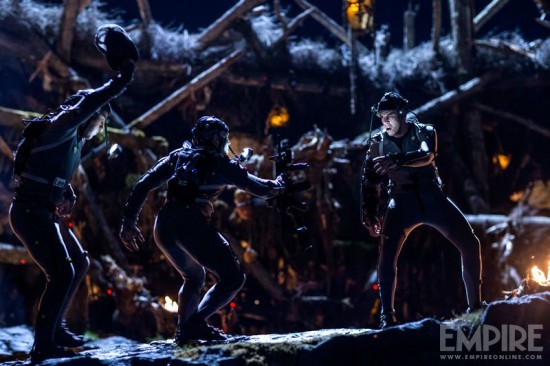 Dawn of the Planet of the Apes arrives in theaters July 11. [Empire]
Remember when we all thought Mad Max: Fury Road would be out sometime around 2012? To date, we've seen barely anything from the movie. Now, with the release date about a year away, a new image of Tom Hardy as Max Rockatansky has surfaced on the web.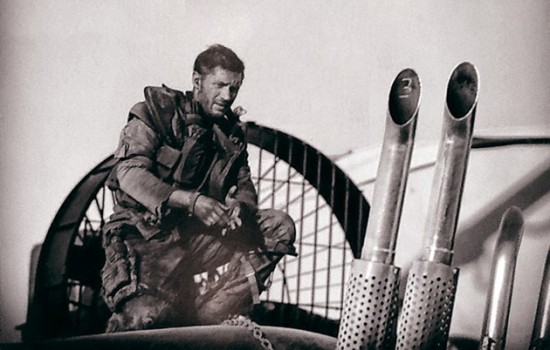 Presumably there'll be more where that came from before the movie opens May 15, 2015. [Reddit]