'Entourage' Set Photos Direct From Director Doug Ellin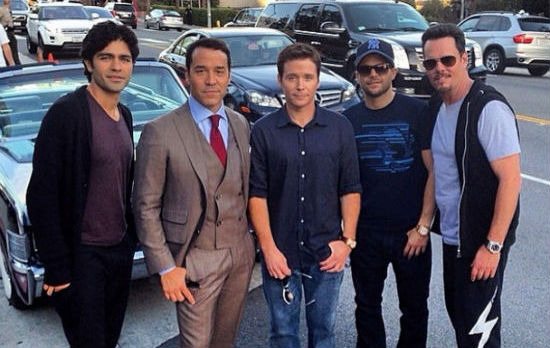 The Entourage movie doesn't open for 15 months, but production is well underway. In fact, the film opens on the same day as Jurassic World, and Entourage will be in the can before director Colin Trevorrow shoots a foot of film on the dinosaur sequel.
The writer and director of Entourage, Doug Ellin, has been doing a pretty amazing job documenting the production via Instagram. He's put up plenty of images of his principal cast – Adrian Grenier, Kevin Connolly, Jerry Ferrera, Kevin Dillon and Jeremy Piven – but also revealed a slew of cameos and plenty of returning stars who played key roles in the eight seasons of the hit HBO show.
Below, check out some Entourage set photos.
All of these images come from director Doug Ellin's Instagram account, MrDougEllin. Head there for way more images, but here are a few of the best.
Head to Ellin's Instagram for even more Entourage set photos.
Among the celebrities in the images above: Gary Busey, MMA fighter Ronda Rousey, boxing legend Mike Tyson, NFL superstars Russell Wilson, Rob Gronkowski and Julian Edelman, show producer Mark Wahlberg, actress and model Emily Ratajkowski, Bob Saget and Piers Morgan. Many of those actors (Busey, Saget, Wahlberg) played major roles in the show, while others (Rousey, Morgan) seems to have bigger roles in this film. The rest all look like they were there just to party, which sounds about right for an Entourage movie.
The Entourage movie is scheduled for release June 12, 2015, the same day as Jurassic World. There's no way it can win the weekend, but with what's surely a moderate budget, it doesn't need to. It just needs to be a good movie so fans can enjoy hanging out all over Hollywood with Vince, E, Turtle, Drama and Ari.
Are you looking forward to the Entourage movie? Have you been following Doug Ellin's Instagram? Who is your favorite or most exciting cameo revealed so far?