New Official Shots Of The Rock As 'Hercules' [Updated With Poster]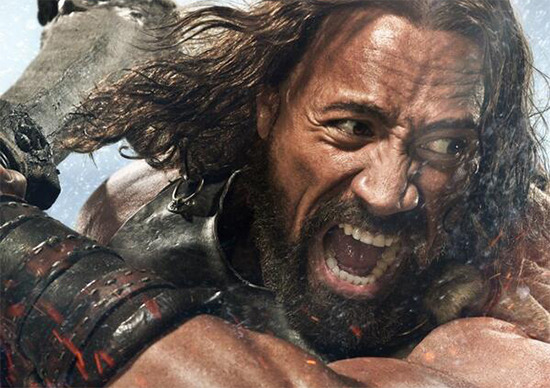 Thanks to Dwayne Johnson's social media presence we've seen quite a few teasing behind the scenes glimpses of The Rock as Hercules. He's starring in 2014's other Hercules movie, the big one, which opens in July. Now we've got the first official look at the Rock as the hero of myth and legend. We'll see a trailer for the Brett Ratner-directed film on Tuesday, but after the break you can see two rather different still images.
Update: The film's first poster has also been released, and you can see that below.
USA Today has these shots. The film is adapted from the graphic novel Hercules: The Thracian Wars. "The No. 1 goal is to make the definitive version of Hercules," Johnson says, also calling the character "the first superhero."
And if you think your work day is long, producer Beau Flynn explained a typical day for The Rock while shooting this film: "It's incredible, he's up every morning at 3:45 right on the treadmill, then it was right to the gym for hours. And then it was to the makeup chair, then shooting all day in the heat. And repeat that for 90 days."
Here's the poster, via The Rock: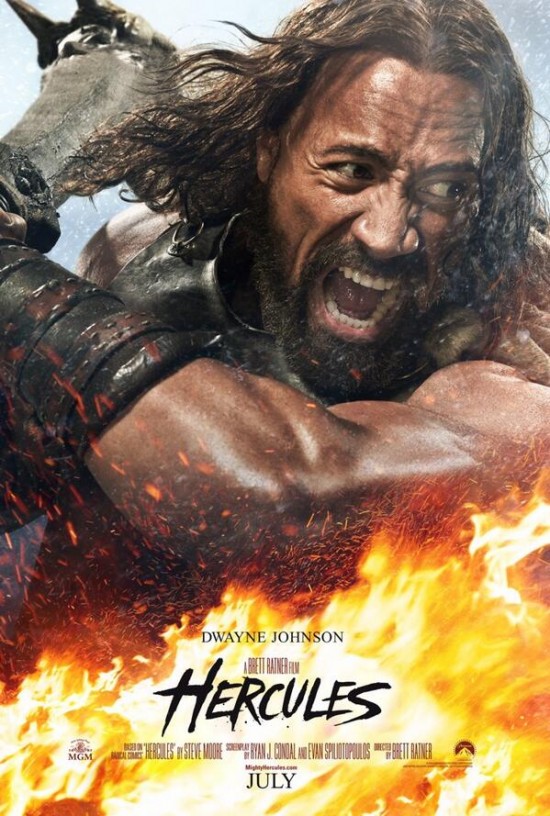 Hercules opens on July 25. It also features Joseph Fiennes, Ian McShane, Rufus Sewell, Ian McShane, Rufus Sewell, Rebecca Ferguson, Aksel Hennie and John Hurt. Following is the synopsis released last year when the film began shooting. It will likely be replaced by something a little more lean when the trailer hits.
Everyone knows the legend of Hercules and his twelve labors. Our story begins after the labors, and after the legend...
Haunted by a sin from his past, Hercules has become a mercenary. Along with five faithful companions, he travels ancient Greece selling his services for gold and using his legendary reputation to intimidate enemies. But when the benevolent ruler of Thrace and his daughter seek Hercules' help to defeat a savage and terrifying warlord, Hercules finds that in order for good to triumph and justice to prevail... he must again become the hero he once was... he must embrace his own myth... he must be Hercules.