'Jem' Movie Will Come Before 'G.I. Joe 3' Says Jon M. Chu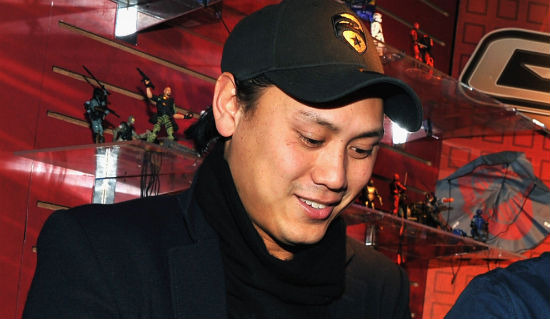 Thursday's April Fools-esque revelation Jon M. Chu would direct a Jem and the Holograms movie with producer Jason Blum is 100% true. Teamed with Justin Bieber's manager Scooter Braun, the trio took to YouTube to announce the project and ask the public for crowdsourced ideas. It was a big deal for lots of fans of the "totally outrageous" Eighties cartoon.
Later that night, the director took to Twitter to chat about the film. One of the revelations was that Chu will make Jem before G.I. Joe 3 because that Joe script is "taking a little longer" than expected. Read the quotes below.
Chu began the dialogue with this tweet:
Is making a Jem & the Holograms movie a crazy idea? Yup. Is it a tough 1 to crack and do right? Absolutely. Do I love a challenge. HELL YES!

— Jon M. Chu (@jonmchu) March 21, 2014
That began a conversation with USA Today writer Brian Truitt among others, which eventually lead to this revelation:
@briantruitt PS Joe script is getting REALLY fun just taking alittle longer.I need it 2b perfect so decided 2try &fit a crazylittle movie in

— Jon M. Chu (@jonmchu) March 21, 2014
You'd have to assume, given the context, the "crazy little movie" is Jem and that work will continue to happen on the "fun" G.I. Joe 3 script they want to be "perfect."
That makes it sound like Jem could potentially start filming by the end of this year aimed at a possible 2015-2016 release. Then add another year or so for G.I. Joe 3. I'm always for any filmmaker not rushing a big, franchise movie, and Chu's hesitance to move forward on G.I. Joe 3 until it's "perfect" is encouraging.
Jem's script by Ryan Lendel is about "an orphaned teenage girl who becomes an online recording sensation," according to THR. "She and her sisters embark on a music-driven scavenger hunt — one that sends them on an adventure across Los Angeles in an attempt to unlock a final message left by her father."
Chu, Blum and Braun are asking fans of all ages to post auditions to YouTube with the hashtag #JemTheMovie. There's no word if they're going to use this to cast the film's leads or not but, it should be a fun process to follow. Are you surprised this will happen before G.I. Joe 3?