'Groundhog Day' Live Read Combines Revelation, Familiarity And Discovery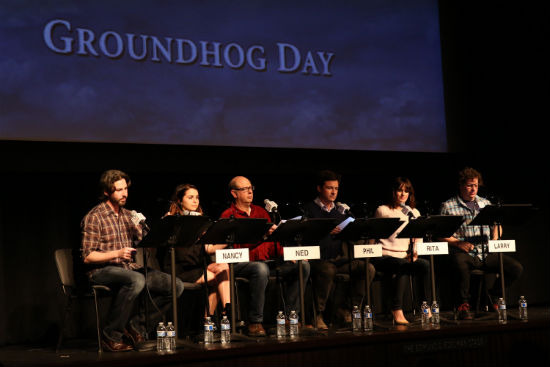 10,000 years. That's how long Phil Connors was stuck in Groundhog Day. At least, that's what writers Harold Ramis and Danny Rubin said in an early draft of the now classic 1993 film. That revelation was later cut out, along with a lot of other things, to make the film we know and love.
But on March 20, Jason Reitman presented that early draft as part of his Film Independent at LACMA Live Read series. On a night dedicated to Ramis, the Groundhog Day co-writer and director, Reitman brought together a small but perfect cast to read through the script. That cast included Jason Bateman as Phil, Elizabeth Reeser as Rita, Jeffery Ross as Larry, Mae Whitman as Nancy, and Stephen Tobolowsky as Ned, the role he originated.
That balance of familiarity from Tobolowsky, coupled with a fresh but perfectly poignant take from Bateman, made Groundhog Day one of the best live reads to come out of the series to date.
Reitman began the evening with a nice tribute to Ramis, a man who made multiple films with his father, Ivan. He praised them all but said it was Groundhog Day that stood above the rest, calling it the "closest thing we have to Frank Capra in the modern era." As he introduced the cast, Reitman saved the reveal of Tobolowsky for last, which got a massive ovation. When he sat down, Bateman jibed him: "It's pathetic you're not off book, though."
Criminally, I too am not off book on Groundhog Day, having not seen the film from beginning to end in a few years. Reitman said the script was filled with deleted scenes, but I only noticed two or three, and lots and lots of nips and tucks. I'll point out what I can.
First up, the use of Sonny and Cher's "I've Got You Babe" is in the script. That helped the live read because they don't play music. Just hearing those words instantly brings the tune to mind. As usual with these events, everyone except the leads played multiple roles. So, for example, Whitman and Ross were the DJs who wake Phil every morning. Their enthusiasm for the parts brought one of the evening's many ovations. The biggest, however, was when Tobolowsky first broke into the Ned Ryerson character. He might not have been off book but the delivery and cadence were spot on like it was 1993. Everyone ate it up, including the cast, many of whom almost fell back in their chairs with laughter. "Bing!"
Right from the beginning too, another thing was very obvious. Jason Bateman didn't show up to mimic Bill Murray. No one will ever come close to Murray's performance, so Bateman did his own take. It was similar, of course, but even more dry, deadpan and much warmer. Bateman's Phil didn't feel particularly mean, just cocky. The actor also is an incredible sight reader and for 95% of the night, it was as if we were watching the final movie. The dramatic pauses were there. The comedic timing. Every line had the right emotion, was delivered clearly, and it ranged from huge, big energy, to soft, sweet caring. Later in the read, 600 people sat entranced as Phil gently whispered into Rita's ear. I'd never want a remake of Groundhog Day, but if someone did produce one, Jason Bateman would be an amazing Phil.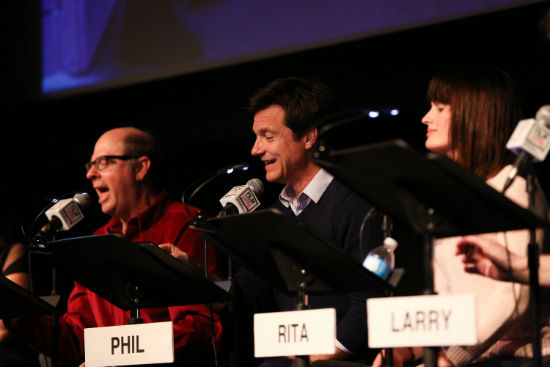 One of the first noticeable scenes I don't remember from the final film is a moment where Phil, shotgun in hand, robs the Brinks truck. He then uses that money to buy a BMW, a full cowboy outfit complete with guns, and a hooker. This is after the script's first mention that he's been in the loop for 211 days.
Once two years have elapsed, there's a scene with Phil hustling at pool. However, one of the people in the bar doesn't gamble pool, they gamble on basketball. So Phil precisely predicts the final score of every single game.
Also, Phil makes headway with Rita much earlier in this version of the film. In fact, he gets her all the way back to his room at one point, something that doesn't come close to happening in the movie until later. His realization she's the key to this scenario is very focused in the final film. In this script, it's more spread out. There's also a scene where she secretly follows him around town to question all the things he's doing.
Later in this version, Phil spends lots of time in a library studying. This, and many other small actions, happen as a calendar continually flips over him. A huge amount of time passes as he gets good at everything imaginable. Finally, once we get to the big finale (here it's Fred and Debbie's actual wedding and not a Groundhog Day party) Phil reveals to Rita that she's been his reason for living 10,000 years. The script says "it's literally the nicest thing anyone has ever said to anyone."
Finally, they wake up and it's much like the final film. Phil is amazed and excited over the arrival of a new day. The biggest difference is that here the film ends in voiceover. "And now I start my final lifetime," the soliloquy begins. I didn't get it all down but it's a beautiful rumination on time. It says you can waste it, save it, kill it, but "if you use it wisely, there's never enough of it." The ending is much more philosophical than what we get in the film, simply because the knowledge he's been doing this for 10,000 years gives him a Godlike quality. That's only mentioned in passing in the final film.
Overall, this early draft is definitely more serious and the performances, Bateman's in particular, conveyed that. You understand why the final film lightened things up a bit. Ramis was a comedic director, after all, and Groundhog Day the film is very funny. This early version is funny too, but also has much more pain and acceptance of the situation.
As Rita, Elizabeth Reeser was wonderful sweet as the object of Phil's affections. Ross and Whitman too both did fantastic jobs with their lead roles, and the smaller ones. But the whole night really was about three people: Stephen Tobolowky, who reminded us of the humor of the original film, Jason Bateman, who brought a new gravitas to the lead, and Harold Ramis, the man responsible for making it all happen.
All in all, the Groundhog Day Live Read was another magical night thanks to Reitman and Film Independent at LACMA. The final live read of the season is set for April 17.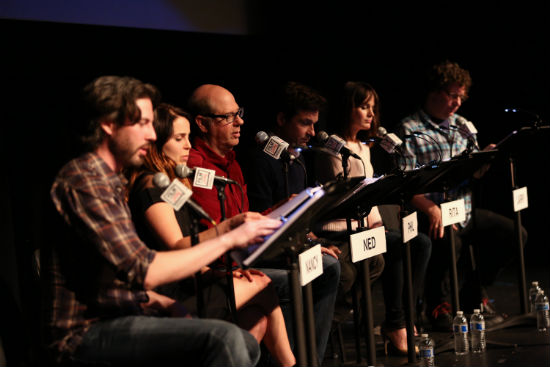 Image Credit: Chelsea Lauren/WireImage