David Fincher Wants Christian Bale To Play Steve Jobs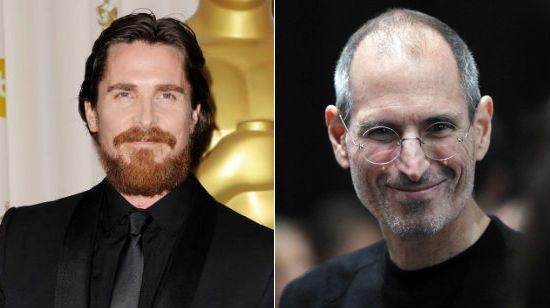 David Fincher will only direct the Aaron Sorkin-scripted Steve Jobs biopic if Oscar-winner Christian Bale plays the lead role. That's what The Wrap is reporting this afternoon. Fincher has been in talks to direct the film, which reportedly centers on three key keynote addresses in Jobs' life. In a meeting with the head of Sony Pictures, Amy Pascal, the Fight Club director said he'd only do the film if Batman himself took on the role.
According to The Wrap, the biggest issue with this ultimatum is Bale has yet to be approached. He's coming off another Oscar-nominated performance in American Hustle, a strong role in Out of the Furnace, and also recently finished filming Ridley Scott's Biblical epic Exodus. Bale has earned a break.
Plus, Exodus comes out later this year and Fincher has Gone Girl out this year. A lot of time will pass before anything moves forward in an official manner.
The idea is fantastic though. Bale is certainly one of our best actors and well-known for being able to transform physically. From The Machinist to The Dark Knight, from American Hustle to The Fighter, Bale is a chameleon. Considering this film would likely cover three very different times in Jobs' life, that's a plus.
Ashton Kutcher did an admirable job playing the Apple co-founder in 2013's Jobs, but no offense to the Two and a Half Men star, there's really no comparison between he and the Oscar-winning actor. Add Fincher behind the camera and the Oscar-winning screenwriter of The Social Network, and this film, if it all falls into place, becomes one of the most highly anticipated true-life films in recent memory.
What are your thoughts on this? Is Fincher smart to only make this movie with Bale? Could anyone else live up to the promise of another Sorkin-written, Fincher-directed tech film?