'Mad Men' Season 7 Trailer And Images: Change The Conversation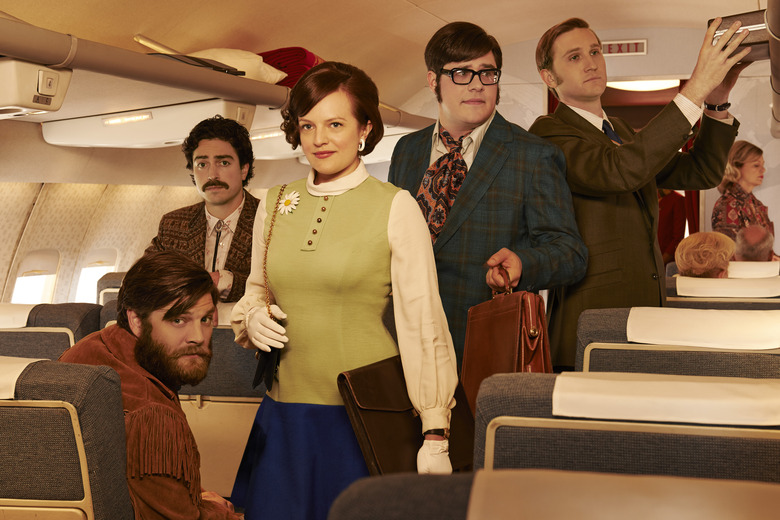 With less than a month to go until the premiere, AMC has released a new Mad Men Season 7 trailer — or several, rather. Given how secretive showrunner Matthew Weiner is about spoilers, it shouldn't come as a huge shock that they don't give away a whole lot about what we'll be seeing next season. Nevertheless, we're just happy to see our old SC&P friends again.
Watch the promos and check out a whole bunch of new images featuring Jon Hamm, Elisabeth Moss, Christina Hendricks, John Slattery, January Jones, and many more after the jump.
"Mad Men Takes Off" is stylish at hell but doesn't reveal much about what's to come. It's basically a moving version of those promotional stills we've seen already — which Weiner has insisted don't contain any hidden meanings or clues.
This teaser, titled "Refresh," is basically a really short recap.
"Go Mad" takes a goofier approach, revisiting some of the most GIF-able moments from Season 6. ("Not great, Bob!" might be one of the greatest Mad Men lines ever uttered.)
But the most revealing one is probably "Change the Conversation."
While "Change the Conversation" doesn't include any new footage either, it offers some insight into where Don is as Season 7 opens. It's 20 seconds of Don getting yelled at and insulted by his friends and colleagues... and then five seconds of him realizing what he can do about it.
As you puzzle over how Don's crisis might play out, feast your eyes on a whole bunch of new stills from Season 7. Oh, Harry. Your future grandkids are going to laugh so hard when they see pictures of you in that getup.
The first half of Mad Men's seventh and final season premieres on April 13. The second half will air in 2015.