American Hustle Deleted Scene: Jennifer Lawrence Sings 'Evil Ways'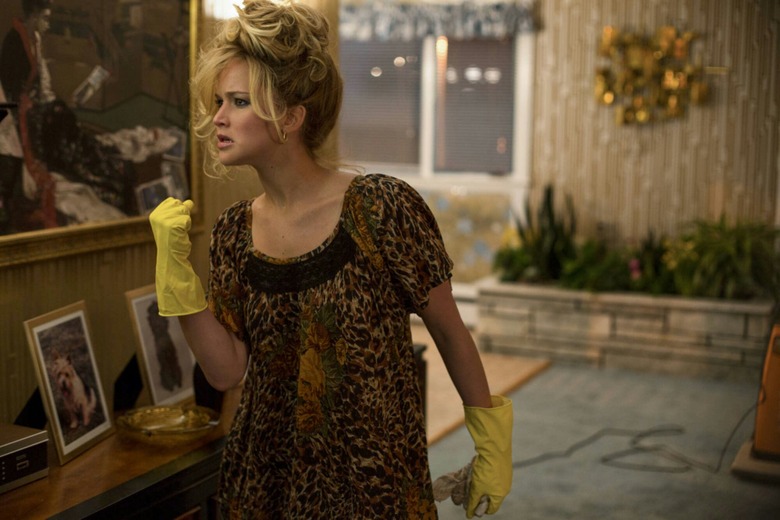 We may receive a commission on purchases made from links.
Jennifer Lawrence "singing" in American Hustle was one of the film's best moments. Whether you loved the film or hated it, there's simply no denying Lawrence lip-synching Live and Let Die by Wings was amazing. Turns out, that wasn't the only song director David O. Russell got the Oscar-winning actress to lip-synch while cleaning her apartment.
In this American Hustle deleted scene, Lawrence's character takes on Santana's Evil Ways. You'll might once again be surprised that the actress didn't win her second Oscar in a row.
Thanks to Entertainment Tonight for this clip.
I could watch Jennifer Lawrence sing Seventies rock hits all day and, now that this video is up, I just might. She's magnetic. However, watching the clip you totally understand both why O. Russell shot this and cut it. He shot it because it's a great juxtaposition of this sheltered housewife, doing her work while also acting out her frustrations with her husband. And he cut it because there's another scene that conveys the exact same thing with a better known, and more appropriate, song. He couldn't just put two full songs in the movie. That's what the Blu-ray is for; now, thankfully, we can see them both.
Either way, in both scenes, it's all about Jennifer Lawrence, now one of the most recognizable actresses in the world, melting into this role. She is incredible here and though eventual Best Supporting Actress Oscar-winner Lupita Nyong'o was equally great in 12 Years A Slave, scenes like the one above make the now-completed Oscar race feel that much closer. Lawrence will definitely get another one, even if the movie is called "Karaoke Cleaning."
American Hustle, directed by David O. Russell, starring Christian Bale, Amy Adams, Bradley Cooper, Jennifer Lawrence and Jeremy Renner, is now on Blu-ray. Grab a copy here, and see this deleted scene and others in full HD.