'Fargo' TV Trailer: "I Would Have Killed That Man"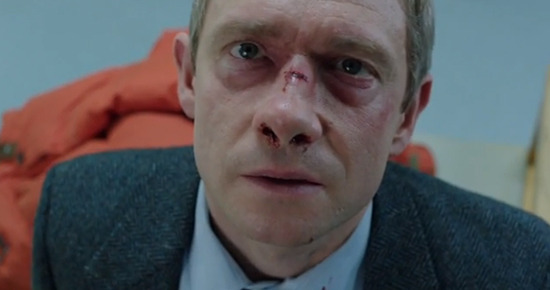 Fargo, the series, follows in the footsteps of Fargo, the movie, with the blessing of Ethan and Joel Coen. This isn't a strict remake, but rather a new "true crime" story that is very much in the vein of the Coen Brothers movie, and which shares the same Minnesota setting and collection of friendly/quirky accents. That said, this new trailer shows that Martin Freeman seems to be doing his darndest to channel William H. Macy's performance.
Some of the rest of the cast (which includes Billy Bob Thornton, Allison Tolman, Colin Hanks, Bob Odenkirk, Kate Walsh, Adam Goldberg, Oliver Platt, Glenn Howerton, Jordan Peele, Keegan-Michael Key, Joey King, and Julie Ann Emery) also has their own Coen debt to pay. Whether this will end up being able to stand on its own two feet is open to question now, but this trailer is entertaining enough that we'll be watching the first episodes of the 10-episode series on FX.
Fargo debuts April 15 on FX.Adam Bernstein directed the first episode based on a script by Noah Hawley. Allison Tolman, Colin Hanks, Bob Odenkirk, Oliver Platt, Kate Walsh, and Glenn Howerton also star.
An original adaptation of the Academy Award®-winning feature film, Fargo features an all-new "true crime" story and follows a new case and new characters, all entrenched in the trademark humor, murder and "Minnesota nice" that made the film an enduring classic. Oscar® winner Billy Bob Thornton stars as "Lorne Malvo," a rootless, manipulative man who meets and forever changes the life of small town insurance salesman "Lester Nygaard," played by BAFTA Award® winner and Emmy®-nominated Martin Freeman. Colin Hanks plays Duluth Police Deputy "Gus Grimly," a single dad who must choose between his own personal safety and his duty as a policeman when he comes face-to-face with a killer. Allison Tolman also stars as "Molly Solverson," an ambitious Bemidji deputy.