Judd Apatow's 'Trainwreck' Casts Up: Tilda Swinton, Barkhad Abdi And John Cena Sign On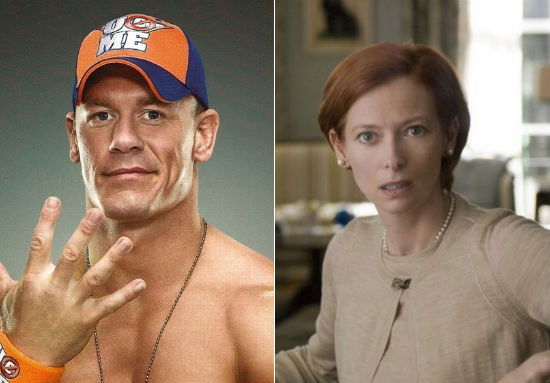 Judd Apatow's next film, Trainwreck, has just filled out its cast. Apatow will direct a script written by and starring Amy Schumer. Now almost a dozen new actors have joined a cast which already included Bill Hader, Brie Larson and Colin Quinn. They are recent Oscar nominee Barkhad Abdi, comedian and director Mike Birbiglia, Girls neighbor Jon Glaser, SNL MVP Vanessa Bayer, WWE superstar John Cena, Perks of Being A Wallflower star Ezra Miller and last, but definitely not least, Oscar-winner Tilda Swinton. The film is scheduled for release July 24, 2015.
The Wrap, Variety and The Hollywood Reporter all reported various parts of this story.
Trainwreck follows "a basket case who tries to rebuild her life." That part'll go to Schumer while Hader will play the best friend/boyfriend type role. Who all the other actors mentioned play is anyone's guess. It's a classic, eclectic, Apatow cast, combining some heavy hitters, up and coming comedic stars and a wild card or two. Almost every Apatow film has an ensemble like this.
What's kind of interesting is out of almost everyone cast so far, the film's writer and star, Schumer, might be the least well-known. She's a hilarious, dirty, sharp-witted comic who has her own show on Comedy Central called Inside Amy Schumer. Schumer has appeared on Girls, Louie, 30 Rock, and Curb Your Enthusiasm but this will be the biggest thing she's done yet by far. Universal must be confident in her and Apatow, as the July 2015 release date is a very competitive one.
Apatow is well-known for making bit players into stars, something he did as a producer or writer with the likes of Steve Carell, Jonah Hill, Melissa McCarthy and Kristen Wiig. Trainwreck should continue that with Schumer.
Out of Abdi, Birbiglia, Glaser, Bayer, Cena, Miller and Swinton, who is the most surprising addition to the cast? Do you think any of them will go against type or will they be in their comfortable roles?