VOTD: Billy Dee Williams Graces 'Dancing With The Stars' With 'Star Wars' Dance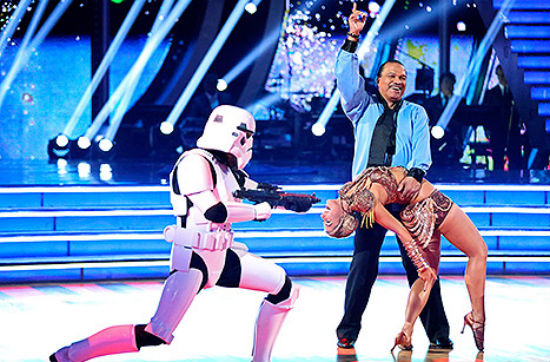 Lando himself, Billy Dee Williams, put the "Star" in Dancing With the Stars Monday night, kicking off the 18th (?!?!) season of the ABC show with a Star Wars inspired dance featuring Stormtroopers, R2-D2 and more. He and partner Emma Slater did a Cha-Cha to John Williams' famous theme hoping to play on the audience's nostalgia. It had mixed results.
Of note, ABC is owned by Disney which now owns Lucasfilm so, this is just corporate synergy its most embarrassing. Still, there is something to take out of this. Check out the video and read more below.
ABC is pretty much on lockdown with these videos but, the below embed seems to be working. For now. The full episode is available here.
While there's definitely a second or two of nostalgia there, this just makes me worried for J.J. Abrams' Star Wars Episode VII. (What doesn't, at this point though?) Billy Dee Williams' character, Lando, was alive at the end of Return of the Jedi, meaning he has a strong chance to return for Episode VII. One would assume that means he'll have to do some physical moves and, let's be honest, Billy Dee is not as graceful as he once was. For a nearly 80-year-old man, he moves superbly but seeing him in this element can't stop me from visualizing what the original cast, the youngest of which is the 57-year-old Carrie Fisher, might look like in the new film.
But still, you've gotta give Williams credit here. He really went for it and the music, effort and showmanship will probably get him to stick around for a week or two on the show. He'll have to defeat, though, younger "stars" like Danica McKellar, Cody Simpson and Candice Cameron.
What do you think of this dance? Do you think Williams will stick around? Is this an accurate representation of what we could expect on December 18, 2015?