'The Boxtrolls' Trailer: Meet Laika's Misunderstood Monsters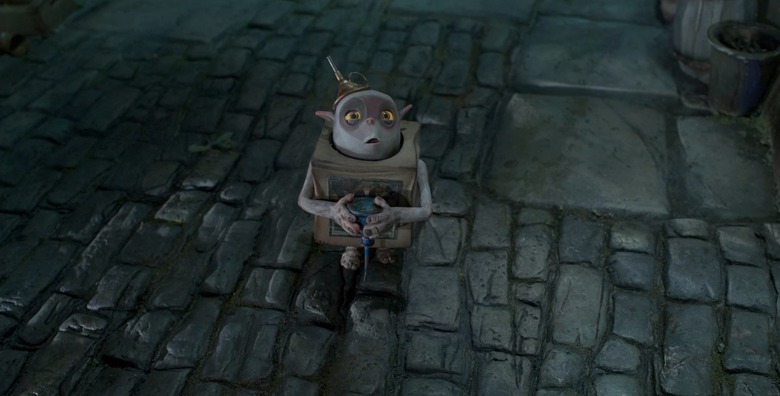 Laika's The Boxtrolls doesn't open for another six months, but the marketing team is already working hard getting the word out there. Today brings yet another new Boxtrolls trailer — the fourth so far — which explains a bit more about the titular tribe of misunderstood monsters. Watch it after the jump.
Despite their willingness to churn out trailer after trailer, Laika's been less eager to show off the plot. This trailer does a good job of setting up the world of the movie, introducing us to the fearful citizens of Cheesebridge and the adorable oddballs who live underneath them. But it explains very little about how the two groups end up colliding, or what happens when they do.
That's all right, though. We still have half a year to get to know these characters better. In the meantime, the synopsis, below, should ease some of your curiosity about what actually happens in this movie.
The Boxtrolls arrives September 26, 2014. Isaac Hempstead-Wright, Elle Fanning, Simon Pegg, Ben Kingsley, and many more all lend their voices to the movie.
The new 3D animated feature from Laika Studios tells the tale of the Boxtrolls, monsters who live underneath the charming streets of Cheesebridge, who crawl out of the sewers at night to steal what the townspeople hold most dear: their children and their cheeses. At least, that's the legend the townspeople have always believed. In truth, the Boxtrolls are a community of lovable oddballs who are raising as one of their own an abandoned and orphaned human boy named Eggs. When the Boxtrolls are targeted by a villainous exterminator who is bent on eradicating them, Eggs must venture aboveground to save them, where he teams with an adventurous young girl to save not only the Boxtrolls but the soul of Cheesebridge.