New 'Peanuts' Movie First Look: Charlie Brown And Snoopy Head Back To The Big Screen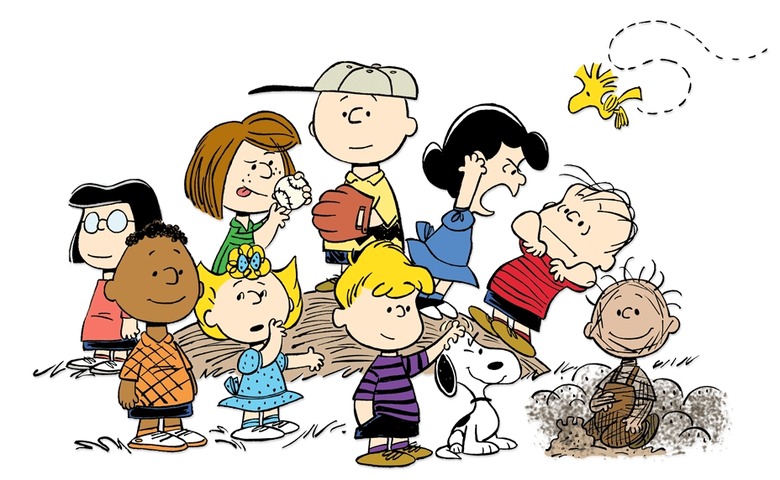 The last time Charlie Brown and Snoopy were in their own big-screen feature was in 1980. But 2015 is the 65th anniversary of the debut of Charles Schulz's comic strip 'Peanuts,' and also the 50th anniversary of their wonderful special A Charlie Brown Christmas. And so a new Peanuts movie is finally going to arrive. This time the characters will be brought to life via CG ("we'll see that Snoopy has soft-white fur" says the cartoonist's son Craig Schulz) and presented in 3D.
The first images from the film have just arrived, heralding tomorrow's debut teaser. You can see a pair of shots below.
Steve Martino (Ice Age: Continental Drift, Horton Hears a Who!) is directing from a script by Bryan Schulz (grandson of Charles) and Cornelius Uliano. We don't have many story details, as producer and trademark controller Craig Schulz says "it's about a round-headed kid and his dog, and that's about as far as I'm willing to go." We know the Little Red-Haired Girl plays a part, as does Snoopy's love interest, the poodle Fifi.USA Today has these first images, and reports a few things about the new movie. Some I think long-time Peanuts fans might appreciate, while others might raise some questions.
Snoopy won't talk. He'll communicate via pantomime, as seen in some of the cartoon specials.
Strangely, the late Bill Melendez, who directed A Charlie Brown Christmas and many other Charlie Brown animations, will essentially voice Snoopy and Woodstock. His original voice recordings were sampled to create "dialogue" for this film.
Other recognizable 'Peanuts' locations will show up: Charlie Brown's skating pond, his house and "the wall." They will not be updated, and will be presented essentially as Schulz originally designed them. "Even the sign on Lucy's psychiatrist booth will still say five cents."
Along with that fact, there won't be modern details to place the film in the "now."
Producer Paul Feig says there's a big effort to preserve Schulz's "sweet optimism" and that "Snoopy will not be rapping, no one will be twerking, we're in good hands."
We'll see Snoopy's WWI biplane dreams. Director Steve Martino says "We're going to fly with Snoopy in his fantasy world. We have a bigger canvas. Bill Melendez got Snoopy off the ground in the TV specials. We're going to take it a step further."
Producer Craig Schulz says "we handle it very respectfully. We knew we wanted this movie to be bigger than any kind of TV special. To do that, we had to kind of go to the boundaries of where I would ever let anyone go in the Peanuts world."
Here are the stills. It's hard to judge how respectful they're really being without seeing the characters move and hearing them speak.
Peanuts opens on November 6, 2015.