'The Maze Runner' Trailer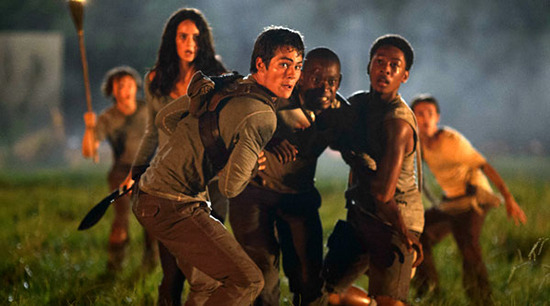 The first Maze Runner trailer is all dire situations:  Thomas (Dylan O'Brien) wakes up in an elevator that quickly pushes him up into a gigantic maze. He and a bunch of other boys are trapped there, and Thomas learns in short order that escaping probably won't be easy. It might not even be possible. Kids explore it each day, but nights in the maze are deadly. And then the girl arrives, and she knows Thomas.
Wes Ball directs the adaptation of the book by James Dashner and this first trailer shows the wild scope of the maze and a hint of a few of the dangers within.
The Maze Runner opens on September 19. It also stars Kaya Scodelario, Thomas Brodie-Sangster, Will Poulter, Aml Ameen, and Ki Hong Lee. The poster below comes via MTV, in case the watermark didn't let you know.
When Thomas ( Dylan O'Brien) wakes up trapped in a massive maze with a group of other boys, he has no memory of the outside world other than strange dreams about a mysterious organization known as W.C.K.D. Only by piecing together fragments of his past with clues he discovers in the maze can Thomas hope to uncover his true purpose and a way to escape. Based on the best-selling novel by James Dashner.