The Weinstein Co. Will Release Animated 'Metegol' As 'Underdogs'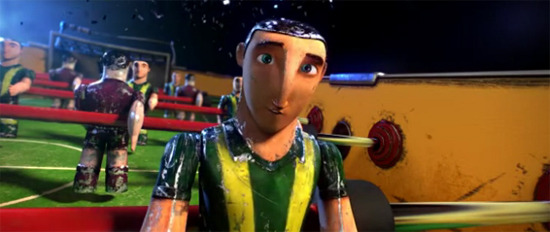 Juan José Campanella followed his Oscar-winning The Secret in Their Eyes with an animated fusbol film that took the Argentine box office by storm last year. The movie, called Metegol at home, was the most expensive Argentine production in history at $21m, but also a very successful release in South America when it hit theaters last summer.
Now The Weinstein Company has picked up US release rights for the movie; trouble is, the Weinstein Co. will release Metegol as Underdogs in the US.
Variety quotes Harvey Weinstein saying,
This film's magical story, heart and humor, along with its top notch animation, truly resonated with us and is sure to captivate parents just as much as it will their children.We're incredibly excited to share it with audiences here in the US and around the world.
Not quoted is the bit where Weinstein presumably continued with comments about how the original title was too unique, and should be replaced by something a lot more generic. The film will also get a new voice track featuring "several notable Hollywood actors."
Here's the description.
METEGOL, also known as Foosball and Futbolín (Spanish Title), is an upcoming 3D CG animated film directed by Academy award winner Juan J. Campanella (Juan José Campanella) of "The Secret in Their Eyes" (El secreto de sus ojos). The film is based on a short story "Memoirs of a Right Winger" by acclaimed Argentine writer Roberto Fontanarrosa. Eduardo Sacheri (who worked on the script of Campanella's The Secret in Their Eyes) is adapting the story for screen. The film is a co-production of several Argentinian and Spanish production houses, and Sergio Pablos, executive producer and creator of the original idea for "Despicable Me," leads the technical side of the production.
The voices of the main characters of the Argentine players are Pablo Rago, Miguel Angel Rodriguez, Fabian Gianola, Horacio Fontova and David Masajnik. It tells the story of Amadeo, a shy but talented boy, and of a foosball team that is trying to get back together after having been dismantled. With the help of the foosball players, Amadeo will have to face his most terrible rival on the football pitch: the Champ. Guided by their leader, the charismatic Right Winger, the foosball players and Amadeo will set off on a great adventure together, like a true team, to get back the dignity that the Champ stole from them.