'Terminator: Genesis' Adds J.K. Simmons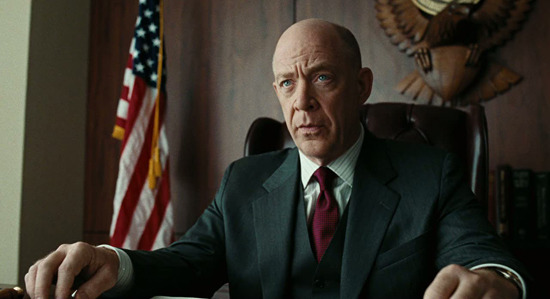 Last month, Jai Courtney booked the role of Kyle Reese in Terminator: Genesis to complete the central trio of returning characters. (Or quartet, if you count Arnold Schwarzenegger's Terminator.) Now it's moving on to some other, less prominent but still crucial, roles — starting with an boozed-up detective to be played by J.K. Simmons.
Learn more about his character, and get some details on how he'll fit into this complicated time-jumping narrative, after the jump. 
According to THR, Simmons is currently in talks to join the Alan Taylor-directed franchise reboot. Already cast are Courtney and Schwarzenegger, as mentioned above, plus Emilia Clarke as Sarah Connor and Jason Clarke (no relation) as John Connor (yes relation).
Written by Laeta Kalogridis and Patrick Lussier, Terminator: Genesis weaves together various threads from earlier installments of the series. A rumored plot description surfaced earlier this month, but all we know for certain is that it involves time travel. Which is how 26-year-old Emilia Clarke is able to play the mother of 44-year-old Jason Clarke.
According to the trade's sources, Simmons will play "a weary and alcoholic detective who has followed a bizarre case involving Sarah Connor and robots for more than three decades (since 1984, which, not coincidentally, is the year the original movie, directed by James Cameron, was released)."
Hmm... could that tie into the planned TV show somehow? What we've heard about that project is that it'll hinge on "a critical moment" from the first Terminator, but then take the plot "in a completely different direction."
Whatever Simmons' character does or doesn't have to do with the TV series, it'll just be nice to see this versatile actor in the upcoming movie. Over the decades, Simmons has built up the kind of career where you never know just where he'll turn up next.
He recently got some Sundance love for the indie drama Whiplash, and is currently leading the NBC sitcom Growing Up Fisher. He's no stranger to big-budget franchises, either, having played J. Jonah Jameson in Sam Raimi's Spider-Man trilogy.
Terminator: Genesis is scheduled to start shooting this spring in New Orleans and other locations. It opens July 1, 2015.