'Avengers 2' Bits: Hawkeye And Hulk Bulk Up, Script Not Being Changed, Falcon Won't Appear, Vision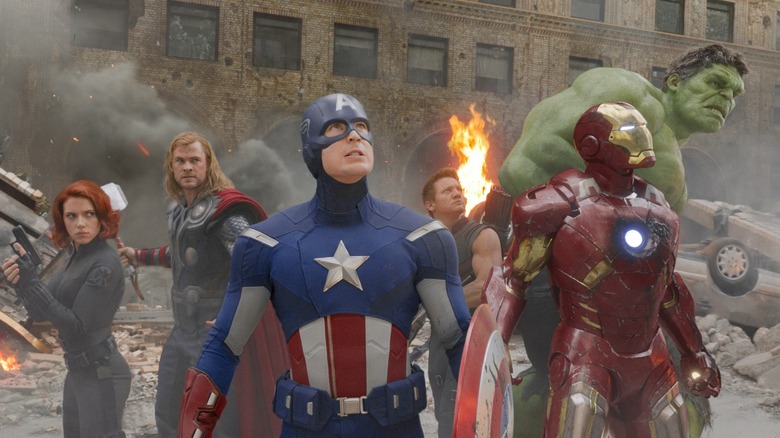 By now you know the drill. As a new Marvel movie is released, Kevin Feige gives us news on what's coming up next. The biggest Marvel film on the horizon is Avengers: Age of Ultron, written and directed by Joss Whedon. So during the press junket for Captain America: The Winter Soldier, out April 4, questions about all kinds of thing in regards to the sequel were posed to Feige. Below you can read about the following:
Hawkeye's Phase Two whereabouts will be covered.
Hulk and Hawkeye will have a bigger role.
Agent Coulson could potentially appear.
Whedon will not rewrite the script because of Scarlett Johansson's pregnancy.
Anthony Mackie's Falcon won't appear.
Feige comments on Paul Bettany as Vision.
First up, in my interview with Kevin Feige we talked about a huge scope of topics, many of which are major spoilers for Captain America: The Winter Soldier. We'll run those closer to release, but once you see the film you'll probably be asking, "Where's Hawkeye?" Considering it deals heavily with S.H.I.E.L.D, who previously employed Hawkeye (Jeremy Renner), his inclusion seems logical. Feige told me it was a conscious decision to not overload this film but not only will Renner have a bigger role in Avengers: Age of Ultron, his whereabouts during Phase Two, will be revealed.
Feige added to that statement speaking to JoBlo, reiterating what we'd all heard and assumed for a long time, the two members of the Avengers who didn't get their own Phase Two movies will have considerably bigger roles in Avengers: Age of Ultron:
Part of the fun of AGE OF ULTRON was saying, you've seen another IRON MAN adventure before, you see another THOR adventure and another CAP adventure, but we haven't seen the Green Goliath again. So that was important in the characters you haven't seen – Hulk being one of them and Hawkeye being one of them – ULTRON will make up for it. They have very big parts in AGE OF ULTRON.
It's difficult to really explain the importance of this next question without spoiling Captain America: The Winter Soldier, but Movies.com asked Kevin Feige the question if Agent Coulson (Clark Gregg) could make the transition back from TV to film in Age of Ultron:
That is a good question that I probably shouldn't answer for any number of reasons.
One of the biggest storylines in Avengers: Age of Ultron is now taking place off the screen. Star Scarlett Johansson was recently revealed to be pregnant and many assumed that might influence her ability to shoot her scenes. It will but Kevin Feige told Collider Joss Whedon won't be rewriting the script:
Well my first reaction was I was very happy for her and very excited for her, and my second reaction was we've gotta move some pieces on the chess board around schedule-wise. But we didn't change the script at all, which is sort of the most important things for us in terms of the storyline. I think the goal is for us to sit here talking about the fact that you would never know that Black Widow was pregnant during the filming of the movie when you see the final version of Avengers 2.
That quote is a little odd when you juxtapose it with this one from Captain America star Anthony Mackie. MovieWeb said they'd love to see him appear in Avengers: Age of Ultron, and he told the following story:
(Laughs) I wish. Everybody says that but Kevin Feige. Chris [Evans] is a good friend of mine. The movie starts in three weeks. I know he's read the script. He's like, 'Yo, man, I read the Avengers script. It's good.' I was like, 'Really?' He said, 'Yeah, Joss (Whedon) is doing rewrites, but it's good. I was like, 'Great! So... am I in it?' And he says, 'I've got to go. I'll be back.' What do you mean? Why can't you just tell me if I'm in the movie? No one will tell me, not one person, so I gave up on it.
So Falcon won't be in the movie, but Whedon is doing rewrites? Someone is misinformed here. But I tend to believe the rewriters are probably just natural.
Finally, back to my own interview with Feige, I ended by asking him if he could confirm the news Paul Bettany was playing Vision in Avengers: Age of Ultron.
I don't think we've officially said anything. But other people said things.
Sounds pretty official to me.
Avengers: Age of Ultron opens May 1, 2015. Filming is now underway.