Watch A 25-Minute 'Game Of Thrones' Season 3 Recap Video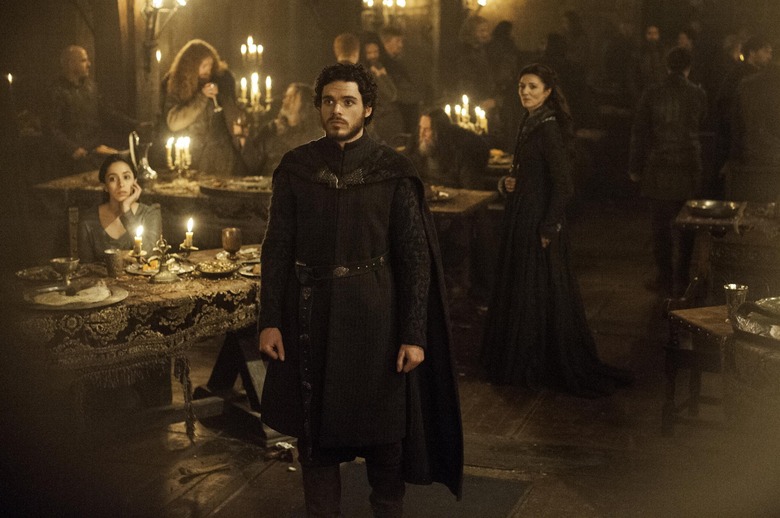 It's unlikely that anyone who sat through the Red Wedding will soon forget it. Still, that was just one of many, many things that happened to many, many characters on Game of Thrones last season. Even the most devoted fan could be forgiven for losing track of a detail or two.
That's where this Game of Thrones Season 3 recap video comes in. Titled "Politics of Power," it covers all of last season — roughly ten commercial-free hours of drama — in a trim 25 minutes. Watch it after the jump.
This way, you can brush up on all the pertinent details without devoting an entire Saturday to binge-watching. Plus it's nice to see old friends again, particularly the ones that aren't alive anymore. (R.I.P.)
HBO debuted the video on the official Game of Thrones YouTube page.
Uf. Even the recap version of the Red Wedding feels like a punch to the gut.
All of this perfectly sets up the events of Season 4. Here's a synopsis that hints at what's to come.
Encouraged by the Red Wedding slaughter in the Riverlands that wiped out many of their Stark nemeses, the Lannisters' hold on the Iron Throne remains intact ... but can they survive their own egos, as well as new and ongoing threats from the south, north and east? While an unbowed Stannis Baratheon continues to rebuild his army in Dragonstone, a more immediate danger comes from the south, as Oberyn Martell, the Lannister-loathing "Red Viper of Dorne," arrives at King's Landing to attend Joffrey's wedding to Margaery Tyrell, and perhaps act on an ulterior agenda. In the north, a depleted Night's Watch seems overmatched against the inexorable Wall advances of Mance Rayder's army of wildlings, which in turn is being trailed by an even more formidable foe: the undead White Walkers. As if that weren't enough, Daenerys Targaryen, accompanied by her menacing trio of dragons and army of Unsullied, is poised to liberate Meereen, the largest city in Slaver's Bay, which could ultimately provide her with enough ships to sail to Westeros and reclaim the Iron Throne.
If Kit Harington (Jon Snow) is to be believed, all of this will lead to the bloodiest season yet. Maybe Nikolaj Coster-Waldau (Jaime Lannister) had it right when he was asked during that Vanity Fair shoot who wanted to win the Iron Throne: "I don't think anyone should sit on the throne. It's clearly not working for this world. They should just dissolve the whole monarchy."
Game of Thrones returns April 6.