Marvel Won't Back Down From 'Batman Vs. Superman' Release Date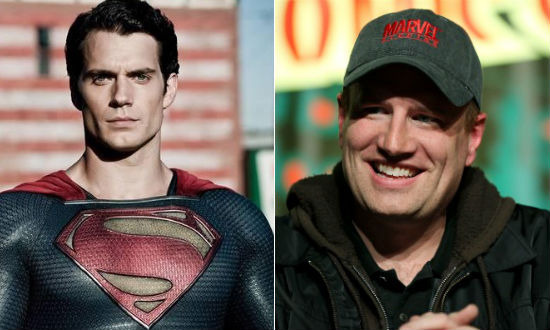 On May 6, 2016, Marvel and DC are going head to head at the box office. In one corner is DC's highly anticipated Man of Steel sequel Batman vs. Superman. In the other corner, an untitled Marvel Phase Three film. Marvel planted their flag on the day in June 2013. Six months later, DC all but challenged them by bumping Zack Snyder's film to the same date. Many believed Marvel, which have yet to reveal what film will be released that day, would move off the date, scared at competing against two of the biggest superheroes in the world. But, according to Marvel Studios president Kevin Feige, Marvel has no plans to move, which would result in for an epic box office showdown.
Speaking to us at the Captain America: The Winter Soldier junket, Feige laughed at the thought of fanboys getting excited at a potential Marvel vs. DC box office showdown:
We're certainly keeping the date there and we'll announce what that movie is, I assume, in the next few months.
Comic-Con is in the next few months, so is that a target?
That would be great, I'd love nothing more than to be able to announce them all there. But if it's ready beforehand, we'll probably do it beforehand. If it's not ready then, we'll do it after.
Of course, though Feige is the president of the studio, he's not the lord of all release dates. Someone at Disney could, ultimately, move the Marvel movie from that day. Or vice versa at Warner Bros. We're talking over two years from now, after all, and anything can happen. But for Feige to be so confident in whatever film they tentatively have in store for May 6, 2016, to say they'll go head to head with DC's best, is pretty impressive.
So what could it be? The obvious options are Thor 3, Captain America 3 or Doctor Strange. Would any of those really be able to beat Batman vs. Superman to be #1 at the box office on opening weekend? I don't necessarily think so, but it would certainly be a fanboy dream to find out.
Can you imagine if this actually happened? If Marvel does open their movie on the same day, what would you do opening night? See both? Just one?