See Arnold Schwarzenegger Crush Things With His Tank, For Charity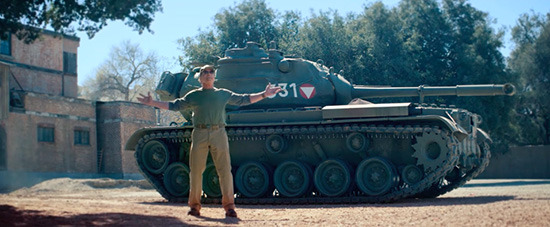 Arnold Schwarzenegger is giving you the chance to drive around with him in a tank, crushing things. For charity! Omaze and the After-School All-Stars are working with Arnold to set up a charity drive where one contributor will win an afternoon with Arnie, in his own tank, crushing things. Like in Conan, but perhaps not with your enemies. Crushing them is probably illegal.
The Kings of Summer director Jordan Vogt-Roberts, who also just directed Nick Offerman's on-stage movie Nick Offerman: American Ham, shot a spot with Schwarzenegger to promote the charity event. While the basic charity promo is pretty safe and "clean," Vogt-Roberts also edited his own version of the spot. This one is very funny, and really gets Schwarzenegger's weird personality across. Its full of movie references and Arnie's love for the fact that he owns his own f*cking tank! Check out the spot below.
Arnold After School AllStars (Director's Cut) from Jordan Vogt-Roberts on Vimeo.