'Through The Looking Glass': Helena Bonham Carter Returns For Alice In Wonderland 2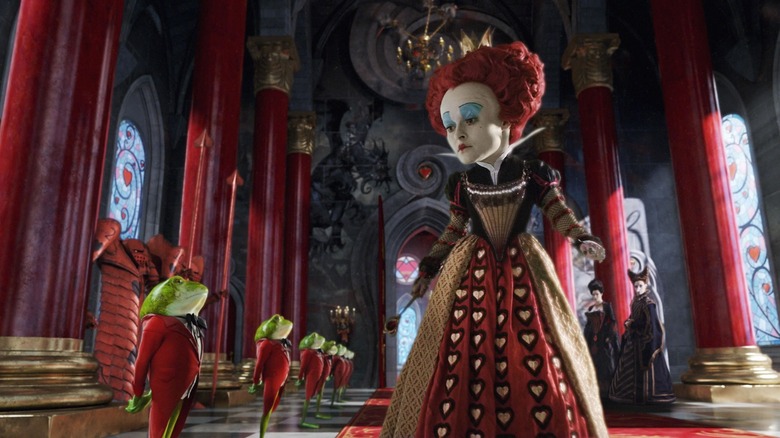 Look who is also coming back through the looking glass: Helena Bonham Carter is in final negotiations to reprise her role as the Red Queen in Disney's Alice in Wonderland sequel Through the Looking Glass.
Previously announced, Sacha Baron Cohen was in talks to rejoin  Sweeney Todd co-star Johnny Depp, who is also reprising his role as the Mad Hatter alongside Mia Wasikowska as Alice. Cohen's role is yet to be announced, but we should assume it will be comical. Variety confirms Carter's return.
Through the Looking Glass Story?
Few plot details have been revealed, but Through the Looking Glass is well-known as a novel. The Tim Burton adaptation played very loose with the original source material, so the sequel will also probably be different from its book.  Through the Looking Glass is considered a sequel to Alice in Wonderland even though it makes no reference to the events in the earlier book. Here is a short comparison:
The themes and settings of Through the Looking-Glass make it a kind of mirror image of Wonderland: the first book begins outdoors, in the warm month of May, on Alice's birthday (May 4), uses frequent changes in size as a plot device, and draws on the imagery of playing cards; the second opens indoors on a snowy, wintry night exactly six months later, on November 4 (the day before Guy Fawkes Night), uses frequent changes in time and spatial directions as a plot device, and draws on the imagery of chess. In it, there are many mirror themes, including opposites, time running backwards, and so on.
Despite poor reviews and a horrible 3D experience, the first film grossed over a billion dollars worldwide. Helena Bonham Carter will also be seen in Disney's Cinderella as the Fairy Godmother.
Alice in Wonderland 2, starring Johnny Depp and Mia Wasikowska, opens May 27, 2016. The Muppets helmer James Bobin will direct.