'Amazing Spider-Man 2' Clip: Spidey Confronts Electro In Times Square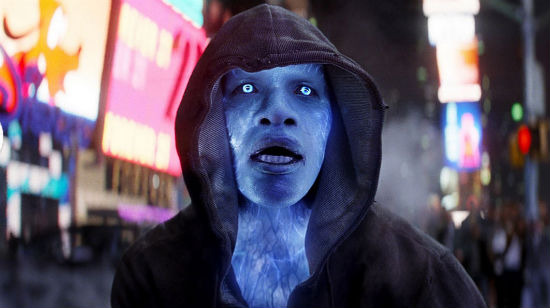 The Amazing Spider-Man 2 might be filled with villains, but the most important one is Electro. It may not feel like that in some of the more recent trailers but the first full Amazing Spider-Man 2 clip makes it pretty clear. Set in the middle of Times Square, this quick, minute long scene features Spider-Man's (Andrew Garfield) first encounter with a fully-operational Electro, played by Oscar-winner Jamie Foxx. We've seen snippets from this scene before, but not the whole thing in sequence. Check it out below.
Thanks to Yahoo for the first Amazing Spider-Man 2 clip.
Sony has been pushing this film harder than any I can remember in recent memory. From the beginning of filming, with director Marc Webb's Twitter, to today with the almost daily clips, photos and trailers, one of two things is certain. Either Webb knocked this thing out of the park and they want everyone to know (the optimistic viewpoint, especially with many more Spider-films on the way) or they want maximum exposure to get a massive, massive, Iron Man 3 size opening weekend because the movie is terrible. That's much more pessimistic but, at this point, the marketing is dangerously close to overkill, would you agree?
Even so, I like this clip. The effects look great and both actors are selling their roles. I'm very much excited to see the whole film in context, especially since I feel like I've already seen it out of context.
Anyway, The Amazing Spider-Man 2 opens May 2. Here's the official plot synopsis:
We've always known that Spider-Man's most important battle has been within himself: the struggle between the ordinary obligations of Peter Parker and the extraordinary responsibilities of Spider-Man. But in The Amazing Spider-Man 2, Peter Parker finds that a greater conflict lies ahead.
It's great to be Spider-Man (Andrew Garfield). For Peter Parker, there's no feeling quite like swinging between skyscrapers, embracing being the hero, and spending time with Gwen (Emma Stone). But being Spider-Man comes at a price: only Spider-Man can protect his fellow New Yorkers from the formidable villains that threaten the city. With the emergence of Electro (Jamie Foxx), Peter must confront a foe far more powerful than he. And as his old friend, Harry Osborn (Dane DeHaan), returns, Peter comes to realize that all of his enemies have one thing in common: OsCorp.