'Mad Men' Final Season Images Hit; Matthew Weiner Talks About The End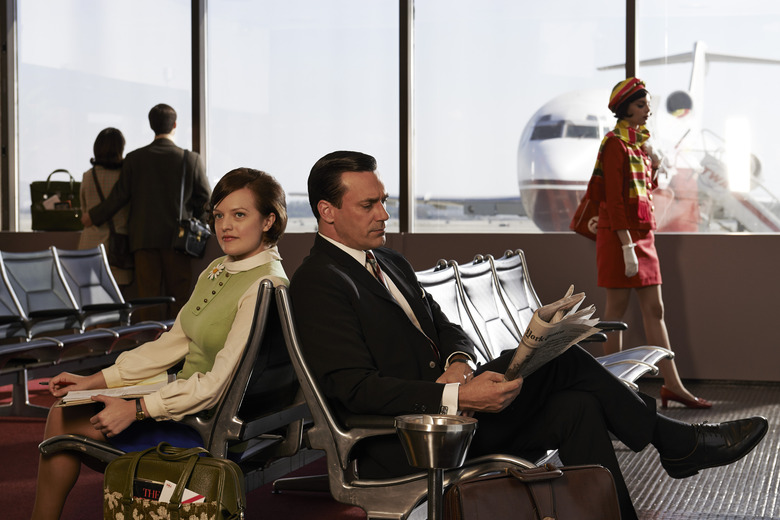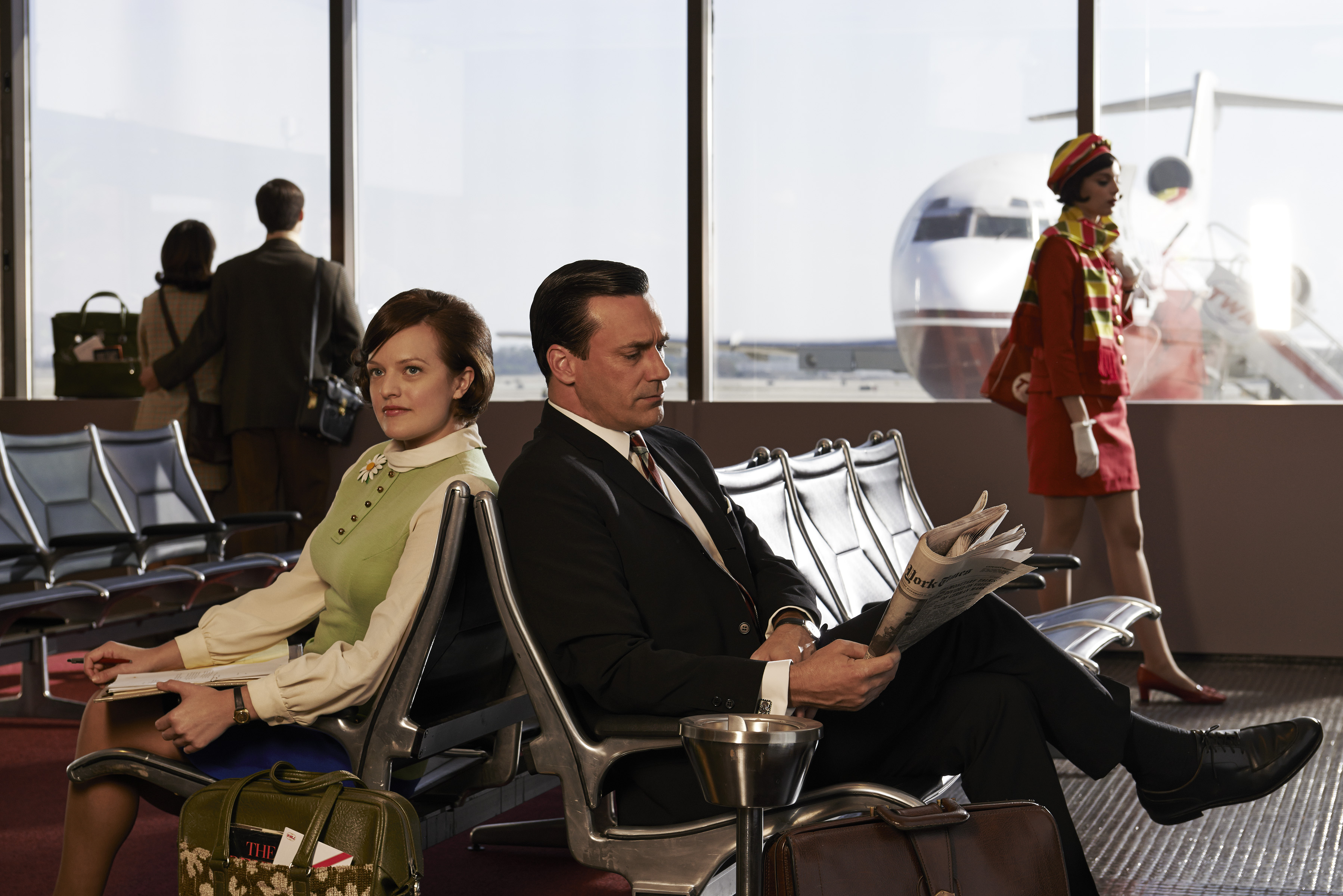 Now that we've all finished analyzing and overanalyzing that psychedelic Mad Men poster, it's time to turn our attention to the first Mad Men final season images.
As Mad Men marketing goes, these pictures look fairly straightforward. They just show Don Draper (Jon Hamm) at the airport and on an airplane, with Megan (Jessica Paré), Peggy (Elisabeth Moss), and Roger (John Slattery) taking turns beside him. But the accompanying interviews with showrunner Matthew Weiner should give you something to chew on until the show comes back.
See the pictures and read Weiner's comments after the jump.
So the new photos, which you can see below, are promoting this year's episodes. Presumably, next year will bring a whole new set of mysterious, glamorous shots.
Mad Men tends to be very heavy on symbolism, and it's tempting to try and read some meaning into these promo images. However, Weiner says there's nothing to interpret.
"We picked the airport partially because of the irony of the fact that there is zero glamour at an airport now, and in travel in general," he told Vulture. "It doesn't defy analysis, because all those people will be in the show, but I would not read meaning into it. Sorry!"
Instead, he explained to TheWrap, the goal is to "remind everybody who's there, and show off our hair and makeup and costumes and photography and the incredible cast, in a way that whets your appetite for the show." Seems reasonable enough.
Weiner is famously spoiler-averse — he makes J.J. Abrams look downright forthcoming — so there's no point in looking to him for specific plot details about the upcoming final season. But he was willing to talk about the series in more abstract terms.
"It is one story running across," he said of the overall fourteen-episode season. "Much of what is set up in much in the first seven episodes is paid off in the last seven as we do traditionally, but the stories are denser and the first seven episodes are their own arc."
Weiner pointed that Episode 7 has traditionally been a key moment in each season anyway. But, he explained to HitFix, the structure is "slightly different" from a typical season. He explained, "It really involves two premieres and two finales." Currently, he's well into the second half. "I'm writing episode nine," he said. "Right now, I'm definitely thinking about the pilot."
As for whether there might be more where that came from, well, don't count on it. "I have not been approached, but I think it's because they know I'm not interested in it," he said when asked about a spinoff. "I would like to do something else, but I also would like to leave it in its state, as a whole thing, as a work. I don't want to tamper with what we did."
Mad Men's seventh and final season kicks off April 13.