Star Wars Bits: Disney Weekends, The Yoda Chronicles, Clone Wars And Jon Favreau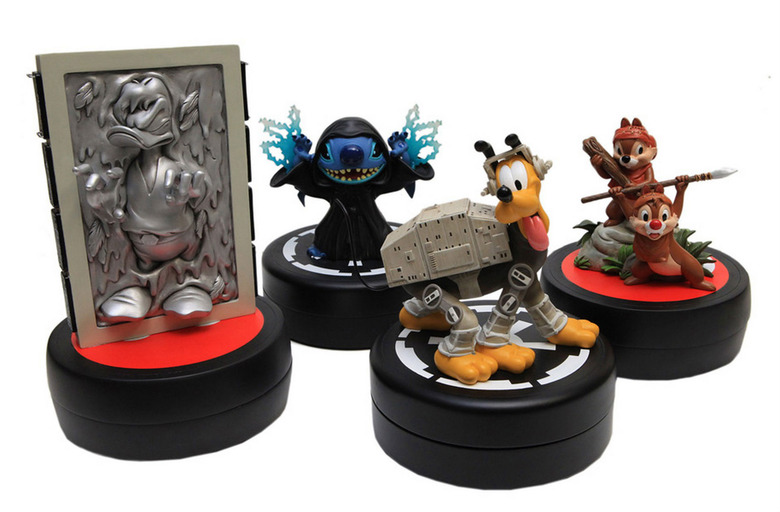 Exclusive merchandise, essential Star Wars stories and Episode VII what-ifs. Read about it all in this edition of Star Wars Bits.
Check out the limited Star Wars merchandise available during Disney's Star Wars Weekends.
LEGO Star Wars: The Yoda Chronicles will continue later this year.
Rumor has it digital versions of the full Star Wars saga will be made available this winter.
In case you forgot, all of Star Wars: The Clone Wars is now on Netflix including The Lost Episodes.
Dave Filoni calls the final episodes of The Clone Wars "very important to understanding the overall saga."
Previously sold out Star Wars maps by artist Andrew DeGraff are back on sale from Gallery 1988.
Jon Favreau would have done Star Wars Episode VII... if anyone had asked him.
Every year, Disney and Star Wars team up for Star Wars Weekends at Disney's Hollywood Studios in Orlando, Florida. One of the biggest attractions at the event is limited edition Star Wars/Disney merch, and this year's haul has finally been revealed. These will be available May 16 at Hollywood Studios and you can read about it here. There's also a package you can buy for special VIP privileges.
The new Lego Club magazine (via JediNews) reveals that the miniseries LEGO Star Wars: The Yoda Chronicles will return to Disney and Disney XD in the fall of 2014.
JediNews also made us aware of a rumor that Lucasfilm might be releasing, for the first time, the digital versions of all six live-action Star Wars films in November of this year. It's not confirmed, but certainly makes sense as fans would buy, then buy them again, and again, etc.
Over the weekend, the entire run of Star Wars: The Clone Wars showed up on Netflix including the premiere of the final Lost Episodes. You can watch them right now, right here.
Speaking of which, showrunner Dave Filoni spoke to Entertainment Weekly about those final episodes, and said the following:
Here we have two story acts within this the 13 that have a strong connection to the franchise, they're very important to understanding the overall saga. They're [creator George Lucas'] last statement about Yoda and The Force and how things fit together. If you're a die-hard fan, they're absolutely must-watch story content. As I think fans realized, this wasn't just fun storytelling in the Star Wars universe. These were very much George Lucas' stories and he felt they were as important as his other work.
Gallery 1988 has released a second edition of Andrew DeGraff's incredible Star Wars maps, which sold out when they first went on sale last January. Now they're smaller and cheaper. Click here to buy them, but here's a closer look:
Finally, in a fun what-if, director Jon Favreau tells MTV he would have jumped at the chance to direct Star Wars Episode VII, save for one small detail: he wasn't asked.
Get More: