'Captain America: The Winter Soldier' Concept Art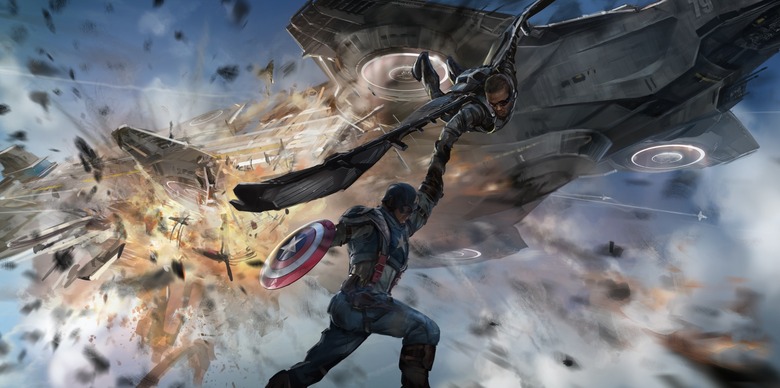 The more we see of Captain America: The Winter Soldier, the better it looks to us. And while we don't have any fresh footage to share with you right here, we do have an exciting new look at the film thanks to a just-released batch of concept art.
The pieces show, among other things, a Cap / Falcon action sequence, Nick Fury in dire straits, and some kind of Captain America exhibit. Flip through 'em all after the jump.
Since these are just concept pieces, there's no guarantee that all of these scenes will be included in the final film, or that they'll look the same even if they are. Still, it's interesting to see what the filmmakers had in mind when they set out to make the movie. And all those action-packed illustrations are just whetting our appetite for the real thing.
Captain America: The Winter Soldier opens April 4. Joe and Anthony Russo directed. Chris Evans, Sebastian Stan, Samuel L. Jackson, Scarlett Johansson, Anthony Mackie, and Robert Redford star.
After the cataclysmic events in New York with The Avengers, Marvel's "Captain America: The Winter Soldier" finds Steve Rogers, aka Captain America, living quietly in Washington, D.C. and trying to adjust to the modern world. But when a S.H.I.E.L.D. colleague comes under attack, Steve becomes embroiled in a web of intrigue that threatens to put the world at risk. Joining forces with the Black Widow, Captain America struggles to expose the ever-widening conspiracy while fighting off professional assassins sent to silence him at every turn. When the full scope of the villainous plot is revealed, Captain America and the Black Widow enlist the help of a new ally, the Falcon. However, they soon find themselves up against an unexpected and formidable enemy — the Winter Soldier.