Cool Stuff: LEGO Star Wars Sandcrawler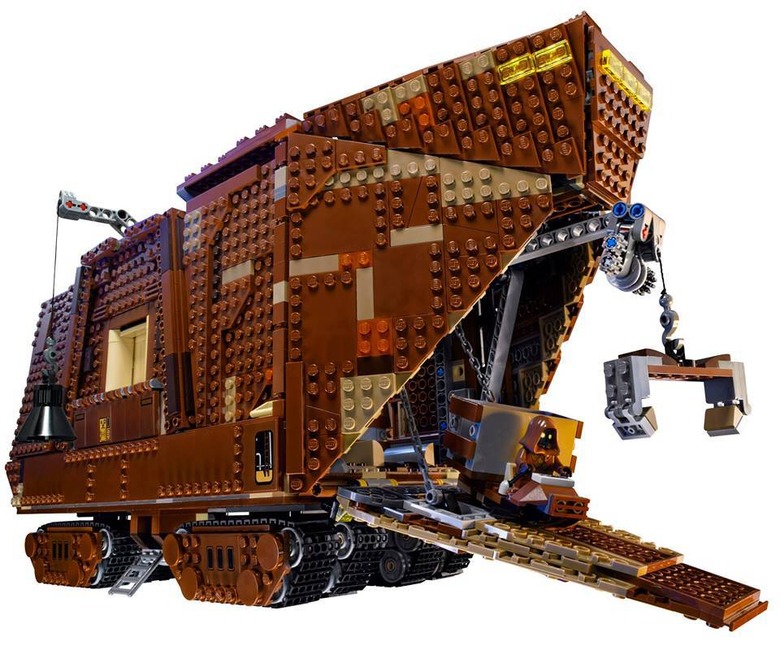 The LEGO Star Wars line just revealed its next monster set: The Jawa Sandcrawler. A 3,296 brick set will be available in May and features seven minifigures including Luke Skywalker, Uncle Owen, C-3PO, R2-D2 and several other droids. It's a massive, beautiful, detailed LEGO Star Wars set and you can check out a bunch of images below.
Here are a ton of images of the LEGO Star Wars Jawa Sandcrawler:
Here are the mini figs.
Here are the particulars:
Includes 7 minifigures: Luke Skywalker, Uncle Owen, C-3PO and 4 Jawas, plus R2-D2, R2 unit, an R1-series Droid, Gonk Droid, R5-D4 and a Treadwell Droid
Features 8 tracks with steering function, lowering front ramp, opening side flaps, removable top, working cranes, speeder bike, opening hatch for easy access to the boxes, attachable handles for lifting boxes, and a detailed interior including engine bay, storage bay and cockpit
Also includes stock for old droids and droid parts
Weapons include a lightsaber for Luke Skywalker
Pretend to suck R2-D2 up into the Sandcrawler – just like in the movie! Measures over 9" (24cm) high, 18" (48cm) long and 6" (16cm) wide
And here's a video of the set:
Having recently built the previous "Ultimate" LEGO Star Wars set, the Red 5 X-Wing, I can vouch for these being the best and most exciting Star Wars sets out there. The detail in these sets are just beyond words and this one seems to blow even that set away. As beautiful and detailed as the set is, though, my only complaint is..the Sandcrawler? Really? If I were to rank the vehicles I'd want to see "Ultimate" LEGO Star Wars sets of, the Jawa Sandcrawler would be way down on the list. Millennium Falcon and the X-Wing? Sure. But after that, maybe Slave-1? A new AT-AT? Not the Sandcrawler though.
The LEGO Star Wars Sandcrawler will cost $300 and be on sale at Lego.com and in LEGO stores.
Thanks to The Fire Wire.