Early Buzz: 'Dumb And Dumber To'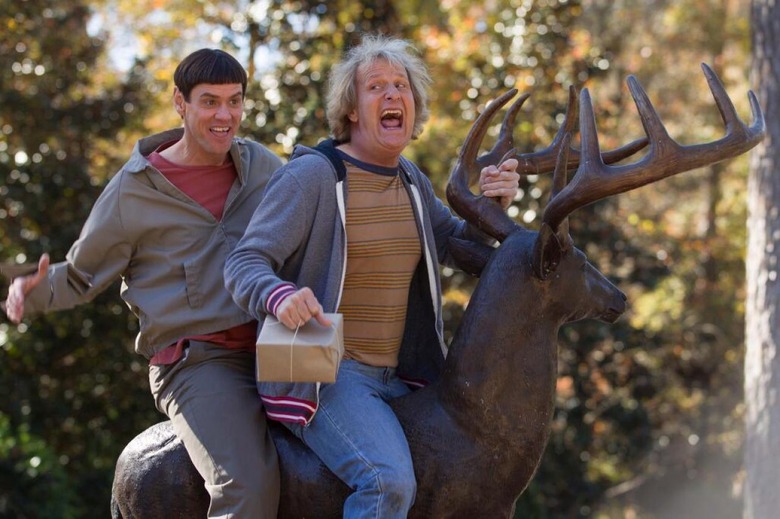 Few imagined we'd ever see a sequel to Dumb and Dumber, but come November it's happening. The Farrelly Brothers have begun to test screen Dumb and Dumber To, their two-decades-in-the-making sequel starring Jim Carrey and Jeff Daniels. One of those screenings took place last night, and some attendees took to Twitter to air their reaction to the first public screening of the film. Read their comments below.
Here are some Twitter reactions for Dumb and Dumber To:
Dumb and Dumber To was hilarious. Everyone should watch it when it comes out! 😂😄

— Dalar (@Dalarb) March 7, 2014
Dumb and Dumber To was pretty fucking hilarious

— Qui Gone Gin (@Delusi0nal_1349) March 7, 2014
I just saw DUMB & DUMBER TO and youuuuu didnnnnn't! #Jealous? #VeryFunny #Nostalgic

— Circa 1888, Inc. (@Circa1888) March 7, 2014
Was in the first audience ever to see Dumb and Dumber To and y'all should see it when it comes out in November cause that shit is FUNNY

— it's me (@BreaParri) March 7, 2014
Dumb & Dumber To is freaking AMAZING! Top 5 Jim Carrey movies! And it was dope seeing the Marietta Square! #HardlyHomeButAlwaysReppin

— Myles Warden (@ReallyMighty) March 7, 2014
Just saw the first sneak preview of Dumb and Dumber To. Guess what? It was really funny. And I shook a Farrelly brother's hand! Yay to both!

— Tory Shulman (@toryshulman) March 7, 2014
Dumb and Dumber To was fucking hilarious

— 🪩danielle krattiger🪩 (@thaitanicc) March 7, 2014
Overall, very positive, but there a ton of things to keep in mind when looking at these. First, this is a very early cut. The first cut, in fact. With a November release date, it's only going to get better from here. Two, critics are not allowed into these screenings. Three, I'd bet half of those kids weren't alive when the first film was released. And four, odds are everyone in the audience was told they were not allowed to publicly post about the film. These people are breaking the rules. If they can't follow a simple rule, can you trust their opinion about movies? (Actually, those things probably aren't connected.)
Regardless, when the reactions are so predominantly positive, the answer is probably "yes." I'd like to think the Farrellys, Jim Carrey and Jeff Daniels wouldn't have come back to this franchise unless they were confident they could make a movie that wouldn't taint the original. Unfortunately for us, we all have to wait until the Winter to find out.
Dumb and Dumber To opens November 14. Kathleen Turner, Laurie Holden, and Rob Riggle are also set to star, along with Cam Neely (Sea Bass) and Brady Bluhm (Billy in 4C).
Jim Carrey and Jeff Daniels reprise their signature roles as Lloyd and Harry in the sequel to the smash hit that took the physical comedy and kicked it in the nuts: Dumb and Dumber To. The original film's directors, Peter and Bobby Farrelly, take Lloyd and Harry on a road trip to find a child Harry never knew he had and the responsibility neither should ever, ever be given.