'True Detective' Parody By 'Community's' Joel McCale And Jim Rash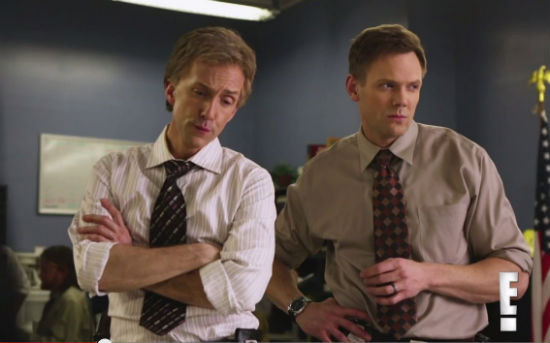 The True Detective finale airs this weekend and fans everywhere are on pins and needles waiting to see where creator Nic Pizzolatto and director Cary Joji Fukunaga will take us in the last hour. After the debut episode, the show quickly reached critical mass. A True Detective parody here, a theory there, the Season Two meme is still everywhere, and debates have raged since day one. Now, even celebrities are getting into the fun. Community co-stars Joel McCale and Jim Rash (an Oscar winner, by the way) appeared on E's The Soup to poke fun at hit HBO show. Check it out below.
Thanks to The Soup (via Cinemablend) for this True Detective parody.
Jim Rash and Joel McCale both do really solid impressions of True Detective stars Woody Harrelson and Matthew McConaughey here; that makes the clip funny. It's beside the point of the show though, which is partially about the mystery, partially about these two interesting characters, and partially about the essence of narrative. But that's fine. The joke plays, they don't run it into the ground and it's always fun to see actors having a great time as these two obviously are. Plus, this clip looks beautiful infused with Fukunaga's aesthetic via shots lifted right from the show.
Are you looking forward to this weekend's finale? Are you prepared for the reaction pieces that are sure to dominate your online reading come Monday? Do you think there's any way the second season of the show, whatever direction it takes, can match the popularity and watercooler buzz this star-studded first season reached?
Every week Joel McHale and The Soup crew load up their TiVos to find the strange, obscure, and totally unbelievable moments in pop culture, celebrity news, and reality TV. Then they deliver the best of it with an irreverent attitude that's sure to satisfy your comedy cravings. Wednesdays @10/9c on E!