'Snowpiercer' U.S. Release Set For Summer 2014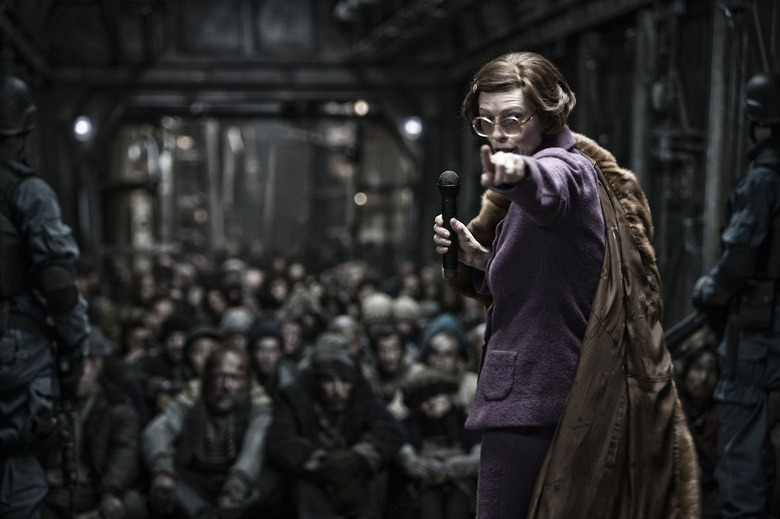 Last month, we finally learned which version of Bong Joon-ho's Snowpiercer we'd be seeing in theaters. Now we also know when we're going to see it. The Weinstein Co. have set a summer 2014 release date for the chilly sci-fi actioner, which had its world premiere in South Korea last summer. Hit the jump for more details on the rollout.
But even if you don't live in an area that typically gets limited releases, there's hope for you yet. The Weinsteins are working with their VOD arm Radius-TWC on this, meaning it'll probably hit VOD on the same date or not long after.
The dispute between the Weinsteins and Bong spilled into the public eye last summer. The Weinsteins reportedly wanted to recut Snowpiercer, which by then had already received rave reviews in Bong's native South Korea, as a more conventional action-thriller. Bong fought back, lawyers got involved, and the argument dragged on for months.
Even after the two sides reached a compromise last month, it was unclear when exactly the Weinsteins would get around to releasing it. We're just relieved to hear we won't be waiting too long.
Based on the French graphic novel Le Transperceneige, Snowpiercer unfolds in a snowy, post-apocalyptic future. The only people left alive on Earth are the passengers of a perpetually moving train. Within the train, however, trouble is brewing as the have-nots begin rebelling against the haves.
Chris Evans plays the leader of the revolutionaries, while Tilda Swinton is one of the most powerful elites. Jamie Bell, Ed Harris, John Hurt, Octavia Spencer, Ewen Bremner, Alison Pill, Kang-ho Song, and Ah-sung Ko also star.