'Annie' Trailer: Quvenzhané Wallis Leads An Updated Classic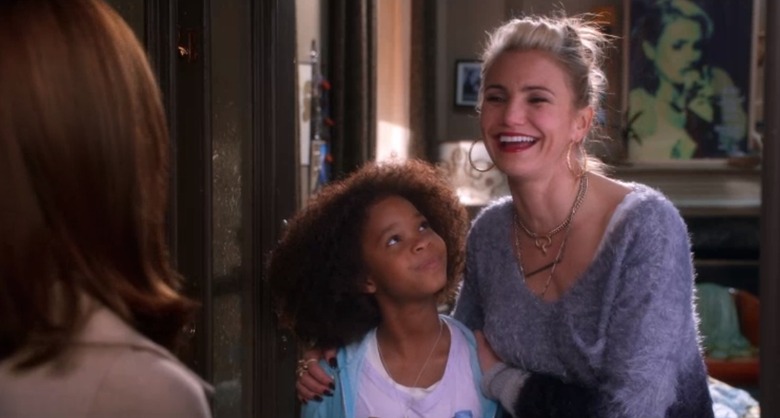 Quvenzhané Wallis was an unknown when she was cast in the offbeat indie Beasts of the Southern Wild, but her winning personality and natural talent won her fans and earned her accolades in no time. Now she's applying those qualities to a more conventional project, Will Gluck's updated adaptation of the hit Broadway musical Annie.
The first =trailer offers plenty of chances to see Wallis in action, singing and dancing her way through modern-day Harlem. Not even the mean Miss Hannigan (Cameron Diaz) can keep Wallis's Annie down, and in seemingly no time at all she's charmed her way into the life of kindly billionaire Benjamin Stacks (Jamie Foxx). Watch the first trailer after the jump.
Annie arrives just in time for Christmas, on December 19.
A Broadway classic that has delighted audiences for generations comes to the big screen with a new, contemporary vision in Columbia Pictures' comedy, Annie. Director/Producer/Screenwriter Will Gluck teams with producers James Lassiter, Will Smith & Jada Pinkett Smith, and Shawn "JAY Z" Carter, Laurence "Jay" Brown, and Tyran "Ty Ty" Smith with a modern telling that captures the magic of the classic characters and original show that won seven Tony Awards. Celia Costas serves as Executive Producer. The screenplay is by Will Gluck and Aline Brosh McKenna, based on the musical stage play "Annie," book by Thomas Meehan, music by Charles Strouse, lyrics by Martin Charnin, and on "Little Orphan Annie," © and ® Tribune Media Services, Inc.
Academy Award® nominee Quvenzhané Wallis (Beasts of the Southern Wild) stars as Annie, a young, happy foster kid who's also tough enough to make her way on the streets of New York in 2014. Originally left by her parents as a baby with the promise that they'd be back for her someday, it's been a hard knock life ever since with her mean foster mom Miss Hannigan (Cameron Diaz). But everything's about to change when the hard-nosed tycoon and New York mayoral candidate Will Stacks (Jamie Foxx) – advised by his brilliant VP, Grace (Rose Byrne) and his shrewd and scheming campaign advisor, Guy (Bobby Cannavale) – makes a thinly-veiled campaign move and takes her in. Stacks believes he's her guardian angel, but Annie's self-assured nature and bright, sun-will-come-out-tomorrow outlook on life just might mean it's the other way around.