'All Is By My Side' Clip Shows Off Andre Benjamin As Jimi Hendrix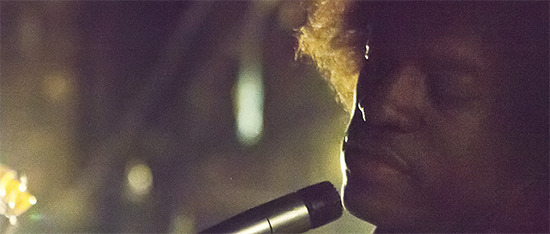 John Ridley just had a great weekend as he won the Best Adapted Screenplay Oscar for his work on 12 Years a Slave. Even if there is still-simmering resentment between him and the film's director Steve McQueen, taking home that Oscar, and the film's own Best Picture win, have to have him feeling pretty good.
Ridley has his own directorial debut coming to theaters this year. All Is By My Side chronicles an early year in the career of Jimi Hendrix, picking up where the guitarist was "discovered" in a club by Linda Keith. The film follows Hendrix as he goes to London and assembles his first major band, the Jimi Hendrix Experience, and prepares to play the Monterey Pop Festival.
We haven't seen a trailer, but below you can see a clip of one scene, in which we see Andre Benjamin as Jimi Hendrix, in a dramatic moment with Linda Keith (Imogen Poots) during a conversation before he heads to Monterey.
Here's the clip, via Shadow & Act.
The song in this scene, by the way, is 'Can't Seem to Make You Mine' by The Seeds, a band that is probably best known for the infectious and insistent 'Pushin' Too Hard.' It might be a stretch to say that this song would be played in a club in the UK in the spring of '67, as it wasn't a big deal except in California until being re-released in May of '67. But it's possible, and makes a good if slightly on the nose accompaniment to the scene.
As for the film, it's a weird thing. Just as this scene feels a bit up close and ragged, the entire movie has a strange energy. You can see here how Benjamin approaches playing Hendrix, and this is a good representation of his dramatic energy across the board. This film's central figure isn't the most dynamic guy. He becomes more energetic on stage, where Benjamin does a good job of capturing some of the unique Hendrix persona. Became rights issues prevent the film from ever blasting into any of his signature songs, however, you won't see the Hendrix that you might be hoping for.