'The Boxtrolls' Trailer: Laika Is So Square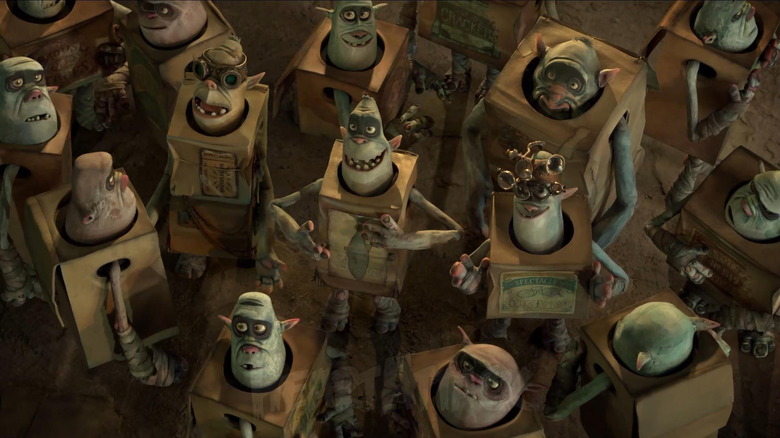 It's too soon to say how 2014 as a whole will pan out for cinema, but any year that includes a new release by Laika can't be all that bad. The animation studio has given us two excellent family films already in Coraline and ParaNorman, and the latest The Boxtrolls trailer suggests that their next feature will be every bit as winning. Watch the video after the jump.
The song you're hearing is Cee Lo Green's rendition of "(You're So Square) Baby, I Don't Care." That seems like a very on-the-nose pick for a film whose tagline is "Heroes come in all shapes and sizes... even rectangles." But it's so bouncy and cute, and suits the playful tone of the movie so well, that it's tough to mind.
The new promo features a ton of new footage, and does a great job setting up what co-director Anthony Stacchi calls a "steampunk, Victorian, Monty Python-world" setting. However, it doesn't reveal much more about the plot of the film than the earlier teasers have. Fortunately, we have the official synopsis right here:
A family event movie from the creators of "Coraline" and "ParaNorman" that introduces audiences to a new breed of family – The Boxtrolls, a community of quirky, mischievous creatures who have lovingly raised an orphaned human boy named Eggs (voiced by Isaac Hempstead-Wright) in the amazing cavernous home they've built beneath the streets of Cheesebridge. When the town's villain, Archibald Snatcher (Academy Award winner Ben Kingsley), comes up with a plot to get rid of the Boxtrolls, Eggs decides to venture above ground, "into the light," where he meets and teams up with fabulously feisty Winnifred (Elle Fanning). Together, they devise a daring plan to save Eggs' family.
The Boxtrolls opens September 26. Isaac Hempstead-Wright voices Eggs, and Elle Fanning, Simon Pegg, Nick Frost, Toni Collette, Ben Kingsley, Richard Ayoade, Jared Harris, and Tracy Morgan also star. Graham Annable also directed.