'Harmontown' Trailer: Dan Harmon After 'Community'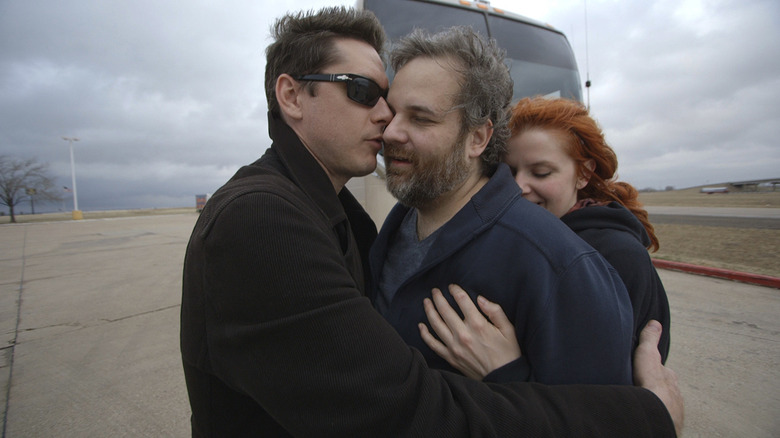 It's been a wild few years for Dan Harmon, the controversial creator of NBC's Community. There was his notorious feud with Chevy Chase, his very public firing from his own show, and his eventual re-hiring by the same show. The first Harmontown trailer tags along on the cross-country comedy tour he took in the interim, offering a tiny taste of what this beloved but troubled artist was going through during that time.
Neil Berkeley (Beauty Is Embarrassing) directed, and several of Harmon's showbiz friends including Joel McHale, Alison Brie, Sarah Silverman, and Jack Black make appearances. Watch the video after the jump.
Lots of TV creators have followings, but few can boast one as fiercely loyal as Harmon's. As he himself acknowledges in the documentary, "I'm not just a fat, fired alcoholic... and I have effects on people." His adoring fans in the trailer seem eager to back up that statement.
At the same time, Berkeley doesn't seem to shy away from his more difficult aspects. One of the admirers featured in the trailer is Silverman, who fired him after the first season of The Sarah Silverman Program. In an interview, she admits, "I'm his biggest fan and I fired him." And Harmon himself seems well aware of his shortcomings, berating himself for drinking too much or not doing his work.
If the film manages to find a balance between admiration and honesty, it should be well worth checking out for Harmon devotees. Harmontown will debut at SXSW on March 8.
"Harmontown" is a documentary film starring TV writer and producer Dan Harmon (NBC's "Community", Adult Swim's "Rick and Morty") as he takes his popular podcast of the same name on a calamitous cross-country tour.  Much more than a comedy-tour documentary, the film directed by Neil Berkeley uncovers Harmon's public persona to reveal his complex character and his equally complex personal relationships. The supporting cast includes Jeff B. Davis ("Whose Line is it Anyway?"), Erin McGathy ("This Feels Terrible") and Spencer Crittenden.