'Stage Fright' Red-Band Trailer: That's Not What You Do With A Power Saw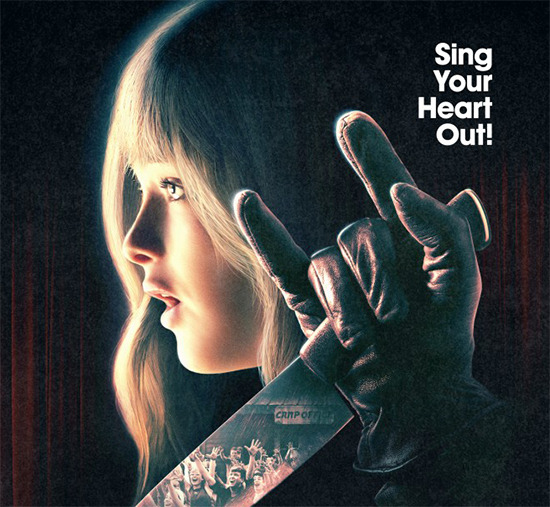 Based on this Stage Fright red-band trailer, if you infuse the classic '80s slasher formula with a little bit of Glee and some of the revisionist energy of Scream, you get Stage Fright. (No relation to the 1987 film of the same name.) The shocker is set in a camp for theater kids where the production of one play turns into the catalyst for a series of killings that are rooted a decade in the past.
If you're coming to this just for the horror, the red-band trailer below suggests that there's some gory stuff within. Which is to say: if you don't like blood, this trailer isn't for you. If you do want to see the red stuff, stick with this trailer until the end.
Jerome Sable, who did the short The Legend of Beaver Dam, is the director here, making his feature debut.
Stage Fright premieres at SXSW next week, and will be on iTunes/On Demand April 3 and in theaters May 9. AICN has the poster you see below. The design on this one-sheet really perfects the art of recreating '80s poster design — this poster doesn't make any sense, but it's something I would have rented on a Friday night without thinking twice. It's great work.
Starry-eyed teenager Camilla Swanson wants to follow in her mother's footsteps and become a Broadway diva, but she's stuck working in the kitchen of a snobby performing arts camp. Determined to change her destiny, she sneaks in to audition for the summer showcase and lands a lead role in the play, but just as rehearsals begin, blood starts to spill, and Camilla soon finds herself terrified by the horror of musical theatre.