Watch The Oscars Pizza Delivery Guy Collect His $1000 Tip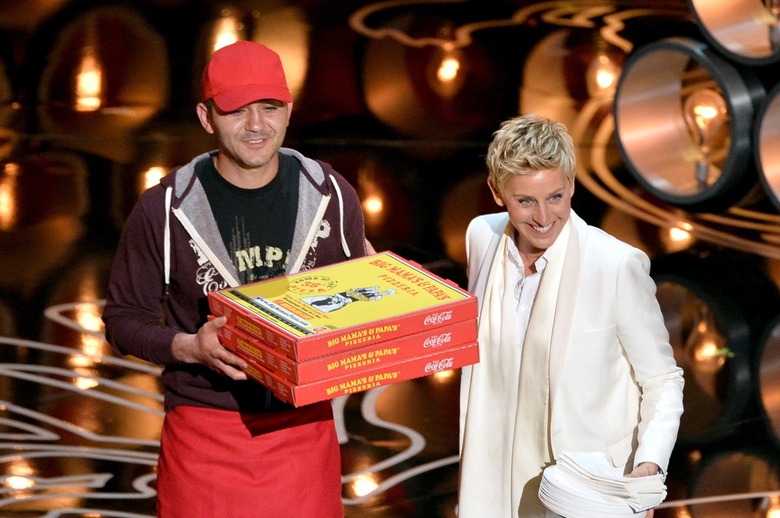 Sunday night's Academy Awards ceremony had no shortage of A-lister attendees, but the star who really stole the show wasn't a celebrity at all. It was Edgar Martirosyan, a delivery guy from Big Mama's and Papa's Pizzeria in Hollywood.
While a typical trip for him might yield a few bucks' tip, Matirosyan's extra-special delivery to Hollywood's richest and hungriest yielded an extra-special payoff on The Ellen Show this week. Watch him tell his amazing story and collect his four-figure tip after the jump.
When Ellen said she wanted to do it, we said we'd hire an actor, but she said, 'No, no, no. You're not hiring an actor. I want a real pizza delivery person.' We said that the FBI would have to do a background check. She said, 'I don't care. I want it to be real. I want this guy to walk in and not know he's going to the Academy Awards.'
She got her wish. Matirosyan had no idea what he was in for when he received the order for 20 pies, as he'd been told that he'd be bringing food for the writers. When he arrived, he was "in shock" to find himself onstage at the Oscars, dishing out slices to movie stars.
As part of the gag, DeGeneres had gone around the audience collecting tip money in Pharrell's giant hat. During his appearance on The Ellen Show, she forked over the $600 she'd gathered, adding another $400 to give him an even $1,000.
Click play to watch him collect the cash, and recount his (totally endearing) side of the story.