Jimmy Kimmel's 2014 Oscars Special Turns Viral Videos Into Awards Bait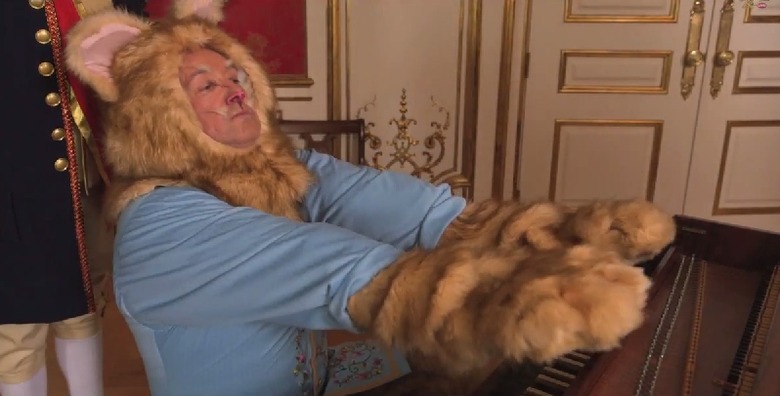 For the last few years, one of the highlights of the Academy Awards night has been what comes after the Academy Awards. Namely, Jimmy Kimmel's post-Oscar spoof of Hollywood filmmaking at its grandest. This year was no exception.
After knocking it out of the park two years in a row with Movie: The Movie and its inevitable sequel, he switched gears this year to bring us highfalutin Oscar bait trailers starring the likes of Meryl Streep, Tom Hanks, Joseph Gordon-Levitt, and Ben Kingsley... based on the likes of YouTube classics "David After Dentist," "Keyboard Cat," and "Charlie Bit My Finger." Check 'em all out after the jump.
But until then, let's just agree that Kevin Spacey as Keyboard Cat is inspired casting. Especially coming, as it does, in a costume drama about his intense rivalry with fellow YouTube animal sensation Hamster On a Piano (played by Christoph Waltz in an equally brilliant stroke).
All of the videos begin with the same annoying ad for Captain Morgan Rum, so just skip to about the 0:22 mark. All videos below come from the Jimmy Kimmel Live YouTube page.
To kick things off, here's David After Dentist Double Rainbow Oh My God! in 3D, done in the style of Baz Luhrmann and based on "David After Dentist" and "Double Rainbow." Joseph Gordon-Levitt, Catherine Zeta-Jones, Samuel L. Jackson, and Seth Rogen star.
Here's Bitman Begins, "directed by" Christopher Nolan based on "Charlie Bit My Finger." Chris Hemsworth, Liam Hemsworth, Meryl Streep, and Tom Hanks star.
Here's the aforementioned Ameowadeus, starring Kevin Spacey, Christoph Waltz, Gary Oldman, Ben Kingsley, Mandy Patinkin, and Abbie Cornish and inspired by "Keyboard Cat," "Hamster on a Piano," and "Dramatic Chipmunk."
And rounding out the quartet is Sweet Brown: Ain't Nobody Got Time for That, with Queen Latifah, Barkhad Abdi, Adam Driver, and Matt Damon.
Which is your favorite? Or do you still prefer the Movie: The Movie franchise?