'Muppets Most Wanted' Sequel Song Trailer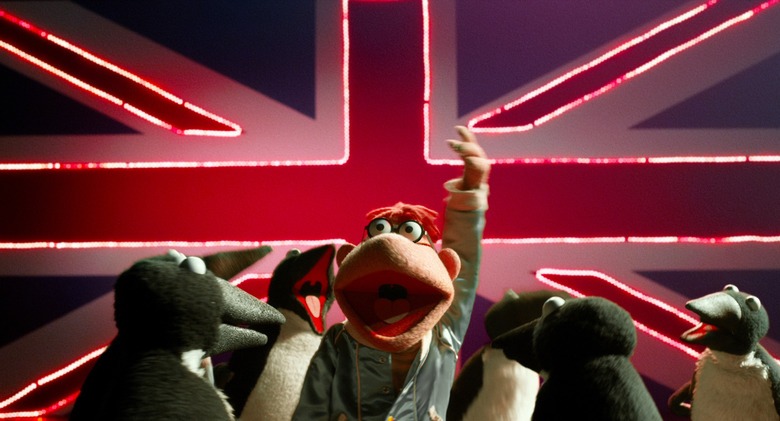 2011's The Muppets was a rousing success, earning big box office returns and strong reviews to completely reinvigorate the flagging Muppets brand. So naturally, Disney's now following it up with a sequel. Because "that's what we do in Hollywood," as Kermit sings in the latest trailer. So cue the Muppets sequel song...
The newest promo for Muppets Most Wanted features tons of new footage along with our first listen at the charming opening number, "We're Doing a Sequel." The lyrics claim that "everybody knows the sequel is never quite as good," but they could've fooled me — so far, Muppets Most Wanted looks every bit as lovable as its predecessor. Hit the jump to check it out. 
Listen To The Muppets Sequel Song
The first part of the video seems to be the actual opening of the movie. So, just as we heard last year, Muppets Most Wanted picks up just moments after the ending of The Muppets. But there's footage from other parts of the film sprinkled in throughout the trailer as well, including some of the many cameos that director James Bobin has lined up.
While it remains to be seen how Muppets Most Wanted measures up to The Muppets, we can say with confidence that the marketing campaign has been every bit of good. Muppets Most Wanted opens March 21. 
Disney's "Muppets Most Wanted" takes the entire Muppets gang on a global tour, selling out grand theaters in some of Europe's most exciting destinations, including Berlin, Madrid, Dublin and London. But mayhem follows the Muppets overseas, as they find themselves unwittingly entangled in an international crime caper headed by Constantine—the World's Number One Criminal and a dead ringer for Kermit the Frog—and his dastardly sidekick Dominic, aka Number Two, portrayed by Ricky Gervais. The film stars Tina Fey as Nadya, a feisty prison guard, and Ty Burrell as Interpol agent Jean Pierre Napoleon.
Thanks to Disney.com for posting the video.