'Fast & Furious 7' To Resume Shooting In April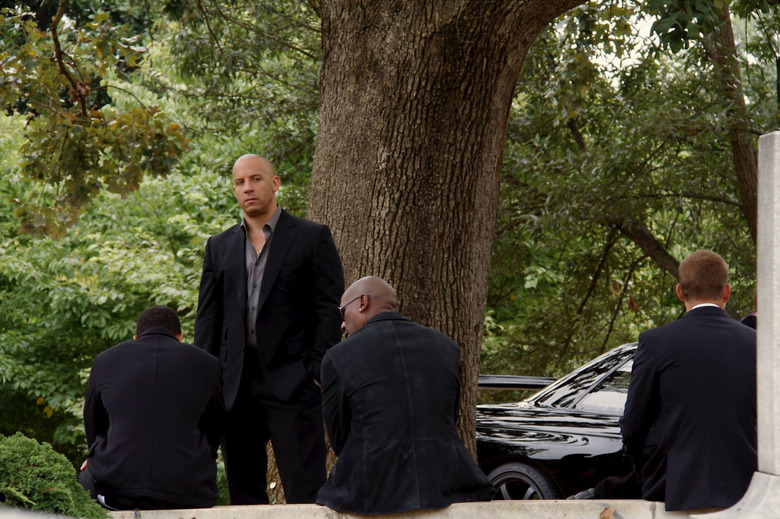 With a new script, a new release date, and a new plan for working around Paul Walker's passing, Fast & Furious 7 is finally getting ready to resume production.
Universal is gearing up to start filming again in Atlanta, where the high-speed actioner had been shooting before Walker's death. More details on the shoot after the jump.
Although earlier reports indicated that shooting had resumed in Abu Dhabi earlier this year, it now appears that that wasn't really the case. Production on Fast & Furious 7 has been on hold since late last year, when Walker died suddenly over Thanksgiving weekend.
His departure left the filmmakers with the unenviable task of figuring out how to proceed without him. Roughly half of his footage had been shot at that point, and he still had some key scenes left to do. 
Among the options considered were scrapping the film entirely and starting over, or bringing Walker's younger brother in to help finish the scenes. Ultimately, the team decided to "retire" Walker's character Brian O'Conner, writing him out of future installments without killing him off.
The studio, Wan, and screenwriter Chris Morgan altered the script so that they could use as much of Walker's existing footage as possible, and new scenes were added to make sense of the story's new direction. Whether those scenes will involve the use of a double is unclear.
Vin Diesel, Dwayne Johnson, Michelle Rodriguez, Jordana Brewster, and Tyrese Gibson all return from previous installments for the sequel. Franchise newcomers include Jason Statham, Kurt Russell, Djimon Hounsou, and Lucas Black.