'The Sacrament' Theatrical Trailer: Ti West's Atmospheric Cult Thriller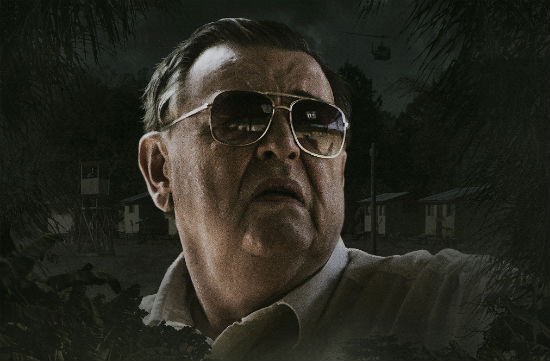 If you're like me, you actively avoid red-band trailers because they tend to give away some of the biggest and best moments of a movie. Well, we can now breathe a sigh of relief and delve into Ti West's latest film, The Sacrament. Hot off the heels of last week's red band trailer, the theatrical trailer has finally been released for the thriller. It follows a Vice camera crew who travels to visit a religious cult. Things, of course, don't go particularly well from there.
The latest from the director of The House of the Devil and The Innkeepers hits theaters June 6 and VOD May 1. Check out the trailer below.
Thanks to Yahoo for the trailer.
And you want even more, the red band trailer premiered last week and you can watch it by clicking here.
Here's the official description of the film, which its VOD May 1 and theaters June 6.
From acclaimed writer/director Ti West (THE INNKEEPERS, THE HOUSE OF THE DEVIL) and master of horror Eli Roth (THE LAST EXORCISM, HOSTEL, CABIN FEVER), THE SACRAMENT follows two Vice Media correspondents as they set out to document their friend's journey to find his missing sister. They travel outside of the United States to an undisclosed location where they are welcomed into the world of "Eden Parish," a self-sustained rural utopia, comprised of nearly two hundred members. At the center of this small, religious, socialist community is a mysterious leader known only as "Father." As their friend reunites with his sister, it becomes apparent to the newcomers that this paradise may not be as it seems. What started as just another documentary shoot soon becomes a race to escape with their lives.
THE SACRAMENT stars Joe Swanberg (YOU'RE NEXT), AJ Bowen (THE HOUSE OF THE DEVIL), Kentucker Audley (SUN DON'T SHINE), Amy Seimetz (THE KILLING), and Gene Jones (NO COUNTRY FOR OLD MEN). The film is written, directed and edited by Ti West (THE HOUSE OF THE DEVIL, THE INNKEEPERS) and produced by Eli Roth (THE LAST EXORCISM, HOSTEL, CABIN FEVER), Jacob Jaffke (SLEEPWALK WITH ME), Peter Phok (STAKE LAND), Christopher Woodrow (BLOOD TIES), Molly Conners (KILLER JOE) and Eric Newman (CHILDREN OF MEN).