'True Detective' Creator Hints Season 2 Could Feature More Prominent Female Characters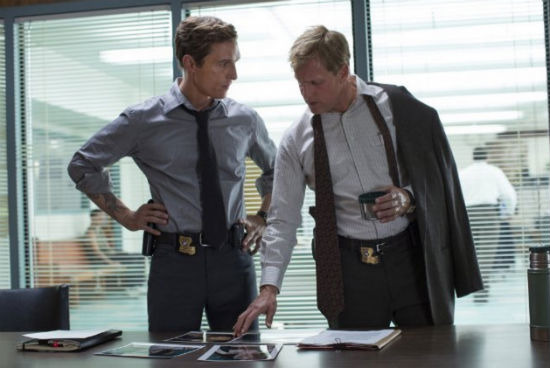 HBO's True Detective has earned near-universal acclaim from professional critics and ordinary viewers alike, but it hasn't gone completely without controversy. One that's been attracting more and more attention lately has to do with its dearth of strong female characters.
Some have grown irritated by the show's bad treatment of women, others argue that "that's the point," and still others insist that the ladies on the show are more complex than we give them credit for. But pretty much everyone agrees that True Detective is nowhere near as generous with its supporting women as it is with its leading men.
The beauty of the show's anthology structure, though, is that this isn't an impossible problem to fix. Indeed, if a recent comment by show creator Nic Pizzolatto is any indication, the stars of True Detective's second season could very well be a couple of lady detectives. Hit the jump to find out what he said.
Hey @nicpizzolatto if True Detective looked at feminine characters with the same lens as masculine, it would be PERFECT & MIND-BLOWING.

— Lana (@friggenawesome) February 22, 2014
In a now-deleted tweet, Pizzolatto responded:
@friggenawesome One of the detriments of only having two POV characters, both men (a structural necessity). Next season...
— Nic Pizzolatto (@nicpizzolatto) February 23, 2014
(Why Pizzolatto has deleted his comment is unclear. In all likelihood, he's just reluctant to say too much about next season, especially when the show has yet to get an official renewal.)
Pizzolatto's reply doesn't go into specifics. It may be that next season will feature two female cops, or one female and one male cop, or two male cops again but with another, female lead character. At any rate, it strongly suggests that he plans to explore female characters more deeply next season than he has so far this season.
And if he's really determined to do so, that shouldn't be too difficult. While a more traditional drama might struggle to introduce a new character or alter an existing one, True Detective resets itself from year to year, so it can, in theory, completely change its focus and perspective next season without destroying what it built this season.
In fact, in an interview with EW published this morning, Pizzolatto said,
It would be great if we could use some of the same actors, like a reparatory company. It would be different characters, different setting. That's part of the fun of the anthology.
In the same interview the writer/producer commented directly on the question of portrayal of female characters in a way related to that now-deleted tweet:
The dilemma with the females in the script is that this is an extremely tight point-of-view show. You're either in Hart's point of view or Cohle's point of view. Any character that is not them runs the risk of being peripheral. There were more scenes with both Maggie and Laurie, Rust's girlfriend, but because we only had 56 minutes to tell a story, we had to cut. But Maggie, for me, is the most emotionally intelligent person in the show.
How this will all play out is the big question. In theory, though a little variety in the leads from year to year seems like a great way to keep the show fresh and interesting. A female protagonist (or two) would bring something to the table that another male anti-hero wouldn't. And considering how much tougher it is for actresses to book meaty roles, Pizzolatto and HBO should have no trouble attracting some seriously talented stars.
Discuss: What pairing (female/female or otherwise) would you like to see lead True Detective next season?