Sequel Bits: 'Sin City 3,' 'Shrek 5,' 'Raid 2,' 'Smurfs 3,' 'Pitch Perfect 2,' 'Fast And Furious 7'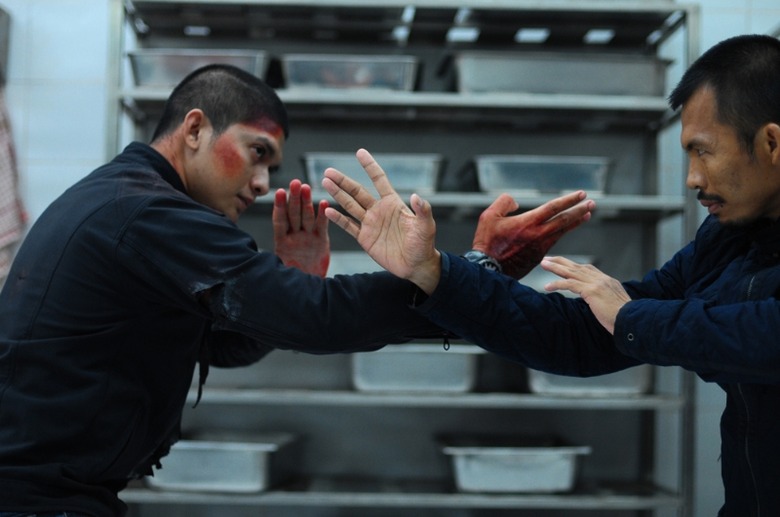 Filming locations, new stills, set photos, videos, rumors and more: let's get on with this edition of Sequel Bits.
Frank Miller and Robert Rodriguez are already planning Sin City 3.
Pitch Perfect 2 will return to Baton Rouge with original costume designer.
Fast and Furious 7 is back to shooting in Abu Dhabi.
Check out eight new stills from The Raid 2.
Dreamworks hints at fifth Shrek movie.
The Smurfs 3 will be completely animated.
Paul Blart 2 continues casting.
Series creator Michael Patrick King has a story for a third Sex and the City.
Check out some crazy set photos from Sharknado 2: The Second One.
Robert Rodriguez appeared on Sirius XM's The Ron and Fez Show Tuesday and reported he and Frank Miller have already begun to discuss Sin City 3. Here's the quote, via The Interobang.
Yeah—the second Sin City– I was just here with Frank Miller last night and we were watching it last night. [We] finished the cut, effects are being done, it will come out in August.... [Miller] watched Part 2—he watched it last night with me and then at the end he said, he didn't have any comments, he was very happy with it. And he said, now about part three.... Started telling me how he's going to do part three. So he's already there on part three.
Elizabeth Banks isn't straying too far from the original with Pitch Perfect 2. She's bringing back the majority of the major cast members, and Nola.com reports she'll once again film in Baton Rouge, Louisiana, where the original was shot. Filming starts May 27. The Hollywood Reporter also reports costume designer Salvador Perez is returning.
On Location Vacations posted this video of filming happening in Abu Dhabi on James Wan's Fast and Furious 7.
In a report on Sony's franchises, Variety revealed that the studio is fast-tracking a third Smurfs film. However, unlike the live-action animated hybrids that came before it, this one will be totally animated.
The sequel we're all highly anticipating, Paul Blart 2, takes Kevin James' character to Vegas. Deadline reports multiple actors have been cast in the film. They are David Henrie, Raini Rodriguez, Eduardo Verastegui, Nicholas Turturro and Gary Valentine. Head there for their roles.
The amazing sequel The Raid 2 hits theaters soon, and eight new stills have been released. Check them out.
After four Shrek films, fans might have thought the franchise was over. Not so says DreamWorks Animation CEO Jeffrey Katzenberg. In an interview with Fox Business (via Variety) he said the following regarding Shrek 5:
We like to let them have a little bit of time to rest. But I think you can be confident that we'll have another chapter in the Shrek series. We're not finished, and more importantly, neither is he.
Speaking to Entertainment Weekly, Michael Patrick King said a third Sex and the City movie is possible, but there are no plans:
Sarah Jessica [Parker] and I both know what that final chapter is. That doesn't mean it will or should be told, but I do think there's one story left. Whether it ever happens is a whole other situation. But there's four girls, and those girls are still in my mind. There are other stories to tell and characters that haven't even been written yet.
Last, and probably least, PopSugar has a ton of set photos from the New York filming of Sharknado 2: The Second One. Head there to check them out.