'Fargo' TV Teaser: Meet The Man Who'll Ruin Martin Freeman's Life [Updated With Casting Info]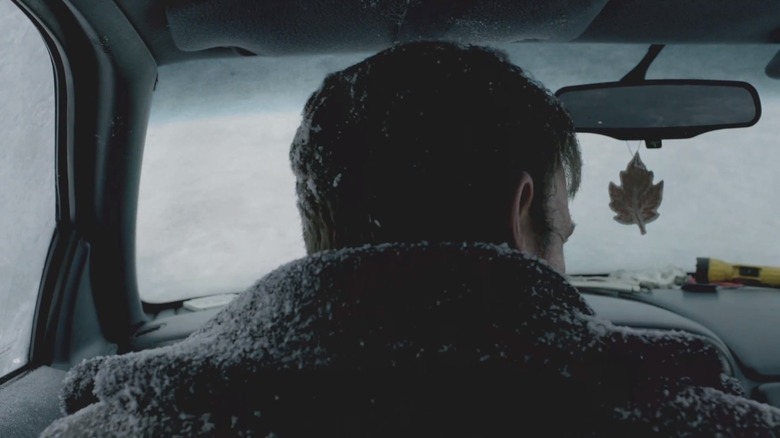 After months of record low temperatures and endless snowfall, most folks around the country are eager to get winter over with already. But FX's Fargo may have you wanting to dive right back into the cold when it debuts this spring.
The first teaser for the 10-episode limited series, based on the Joel and Ethan Coen's film of the same title, has Billy Bob Thornton's shifty drifter character engaging in a familiar wintertime ritual. Watch it after the jump.
[Update: Key & Peele duo Keegan-Michael Key and Jordan Peele have just boarded in recurring roles. Details on their characters after the jump.
[via EW]
Earlier images offered a glimpse of some of the series' other colorful characters, including insurance salesman Lester Nygaard (Martin Freeman). However, this is our first official look at Lorne Malvo, the manipulative man who upends Lester's life.
The video doesn't tell us much about Lorne, other than that he drives a car, but we dig the very Coen-y choice of The Ames Brothers' "It Only Hurts for a Little While" to set the mood.
The brothers aren't directing, though — they're just serving as executive producers. Adam Bernstein helmed the first episode, from a script by Noah Hawley. Allison Tolman, Colin Hanks, Bob Odenkirk, Oliver Platt, Kate Walsh, and Glenn Howerton also star. Fargo debuts April 15.
Update: Vulture reports that Key and Peele will appear in the seventh through tenth episodes of the season. They'll play Bill Budge and Webb Pepper, respectively, two FBI agents looking for Lorne Malvo.
Here's the synopsis:
An original adaptation of the Academy Award®-winning feature film, Fargo features an all-new "true crime" story and follows a new case and new characters, all entrenched in the trademark humor, murder and "Minnesota nice" that made the film an enduring classic. Oscar® winner Billy Bob Thornton stars as "Lorne Malvo," a rootless, manipulative man who meets and forever changes the life of small town insurance salesman "Lester Nygaard," played by BAFTA Award® winner and Emmy®-nominated Martin Freeman. Colin Hanks plays Duluth Police Deputy "Gus Grimly," a single dad who must choose between his own personal safety and his duty as a policeman when he comes face-to-face with a killer. Allison Tolman also stars as "Molly Solverson," an ambitious Bemidji deputy.