Three-Minute 'Amazing Spider-Man 2' UK Trailer Bursts With New Footage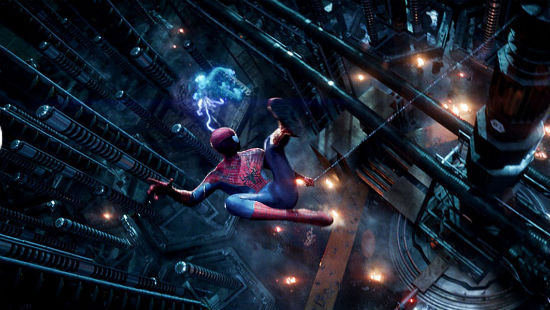 In commercials, trailers, and sizzle reels, it feels like we've already seen 10 or 15 minutes of Marc Webb's The Amazing Spider-Man 2. But the sequel, which opens May 2, is jam-packed with characters and a new international trailer yet again proves we ain't seen nothing yet. It runs three minutes and features a very good portion of new footage, most of which focuses on Jamie Foxx's Electro, a primary figure in the story who's been an afterthought in much of the more recent promotions. Check it out below.
This is a UK trailer, so it has the alternate title: The Amazing Spider-Man 2: Rise of Electro. That won't be the title in the U.S.
Thanks to Latino-Review for the trailer.
We've still got two full months until The Amazing Spider-Man 2 is released. Will you continue to look at new footage? What is the highlight of this latest trailer?
We've always known that Spider-Man's most important battle has been within himself: the struggle between the ordinary obligations of Peter Parker and the extraordinary responsibilities of Spider-Man. But in The Amazing Spider-Man 2, Peter Parker finds that a greater conflict lies ahead.
It's great to be Spider-Man (Andrew Garfield). For Peter Parker, there's no feeling quite like swinging between skyscrapers, embracing being the hero, and spending time with Gwen (Emma Stone). But being Spider-Man comes at a price: only Spider-Man can protect his fellow New Yorkers from the formidable villains that threaten the city. With the emergence of Electro (Jamie Foxx), Peter must confront a foe far more powerful than he. And as his old friend, Harry Osborn (Dane DeHaan), returns, Peter comes to realize that all of his enemies have one thing in common: OsCorp.