Watch Benedict Cumberbatch Perform MoCap Work For 'The Desolation Of Smaug'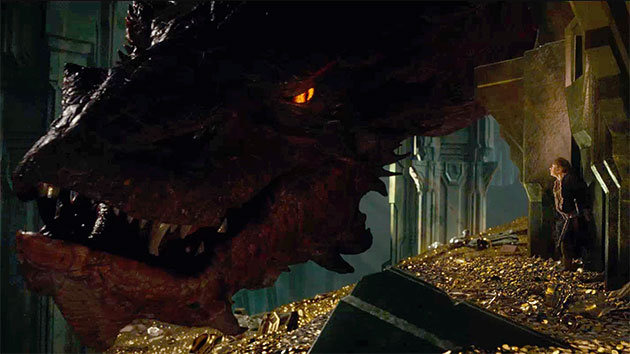 Rest assured that when The Hobbit: The Desolation of Smaug hits Blu-ray on April 8, there will be hours of behind the scenes footage to illustrate in exhaustive detail the process of creating the film. But of all the possible views on the process of building The Desolation of Smaug, the one we're perhaps most keen to learn about is the process of bringing its titular dragon to life.
A new featurette shows a bit of that process, including just a bit of footage of Benedict Cumberbatch in a mo-cap suit doing some all-in physical performance for Smaug. Oh, and in case you need some size reference for Smaug, one of his creators explains that he's twice the size of a jumbo jet. Check out the video after the break. 
THR has the video, featuring David Clayton of Weta Digital. Clayton also explained, 
Using our motion capture stage, we recorded [Cumberbatch's] performances, which focused on the conversation with Bilbo sequence. Having Benedict in a mocap suit was lots of fun — for us, and hopefully for him too — and seemed to help get him immersed and hone in on the character. The translation of performance from Benedict to Smaug wasn't a one-to-one match like you'd get from a humanoid creature. They have very different physiologies," Clayton explained. "As animators we had to transpose the elements of Benedict's performance that were critical to the shot, such as head nuances and facial expressions. We then built up the majority of his motion with keyframe animation (meaning that it was animated by hand).