Lots Of People Finished 'House Of Cards' Season 2 Over First Weekend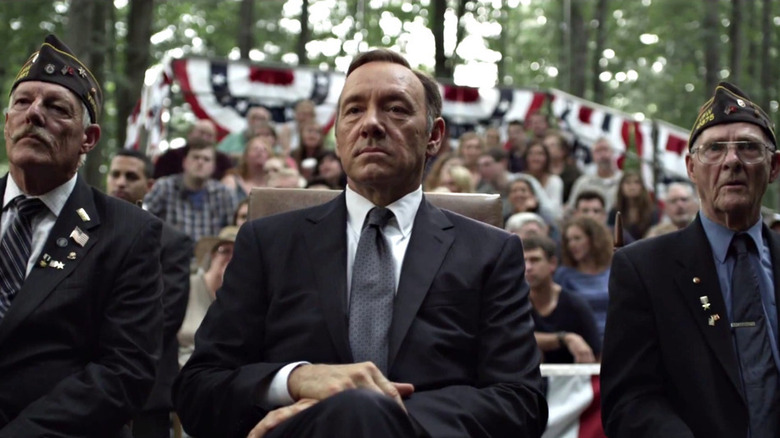 Netflix dropped the entire 13-episode second season of House of Cards February 14 and immediately the race began. That's the race to once again become engrossed in the world of Kevin Spacey's character Frank Underwood; the race to avoid spoilers; and the race to see how fast you can finish. It turns out about 668,000 people – myself NOT included – finished the entire second season before the end of the first weekend. Now their long wait begins until the recently announced third season while the rest of us play catch-up.
Below, read some more stats about this week's House of Cards viewing habits.
These stats come from Procera Networks via The Verge. Here are the basics:
About 2% of U.S. Netflix users watched all 13 new episodes, which works out to about 668,000 people (based on the latest Netflix subscriber estimates).
Only about 1% of European users finished the series.
The average House of Cards viewer watched three episodes.
Between 5 and 15% of all subscribers watched at least one episode.
Overall Netflix viewership didn't go up.
While the nearly 700,000 people dedicating 13 hours of their weekend to finishing House of Cards is pretty amazing, it's those last two points that stick out. First – how could ANYONE watch just one episode of that season? The first episode ending is such a fantastic cliffhanger. (No spoilers here, but be careful elsewhere.)
Second, and more seriously, the survey suggests when a big piece of new, original content hits Netflix, it doesn't necessarily add more subscribers. It just focuses their viewing habits onto something specific, instead of being wildly over the map. Maybe people will jump on as buzz continues to build?
Are you one of the crazy 668,000? If not, how far did you get? Personally, I got 5 in.