Marvel Begins Meetings For 'Doctor Strange' Director [UPDATED]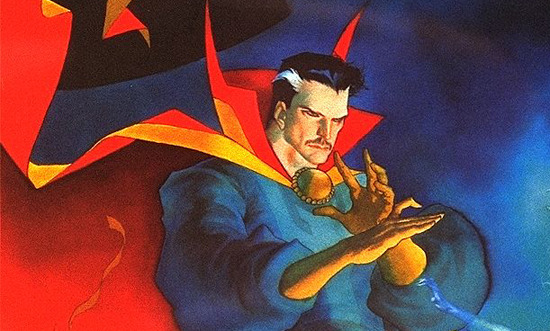 UPDATE 3/11/14: THR now says Scott Derrickson (Sinister) is in the mix, along with previously mentioned Mark Andrews (who recently commented) and Jonathan Levine. The original story follows.Guardians of the Galaxy is well on its way to theaters, Avengers: Age of Ultron is now filming, and Ant-Man is almost fully cast. Next on the Marvel checklist is potential Phase Three film Doctor Strange. Now Kevin Feige's company has reportedly begun to take meetings with directors as they consider choices to helm the film. Read the list below.
According to The Hollywood Reporter, here are the directors who have met, or will soon meet, about possibly directing Doctor Strange:
Mark Andrews, co-writer and co-director of Brave
Nikolaj Arcel, director of A Royal Affair
Dean Israelite, director of Paramount's delayed Welcome to Yesterday
Jonathan Levine, director of The Wackness and 50/50.
The report also says Kung Fu Panda writers Jon Aibel and Glenn Berger are in negotiations to rewrite the screenplay. Apparently, earlier drafts have struggled to mix the mystical sensibility of Strange in the more gritty, superhero reality of The Avengers.
Those four names are incredibly interesting, and once again bolster the fact Marvel is always looking to tap young talent, or people who aren't the "obvious" choice for superhero gigs. (Favreau, Black, Russos, Taylor, Gunn, etc.). To me, the most intriguing names are Andrews and Levine, and that's mostly because I haven't seen Arcel's latest, or Israelite's first film. Andrews came up through the Pixar system, so you know he's focused on story. He's also got big energy, which works well with Marvel. As for Levine, he has demonstrated, time and time again, a great ability to blend genres and balance tone. His movies have been pretty great and he's well overdue for a shot at the big time. Maybe Doctor Strange is it.
If meetings have begun, it seems like a good bet we'll hear something  by WonderCon in April or definitely Comic-Con in July. Once a director and screenwriter are set with a singular vision, they can go out to actors, which is what fans are even more curious about.
What are your thoughts on this list?